ASUS' GTX 560 DirectCU II TOP may have grabbed your attention, but what have some of NVIDIA's other partners got up their GTX 560 sleeves?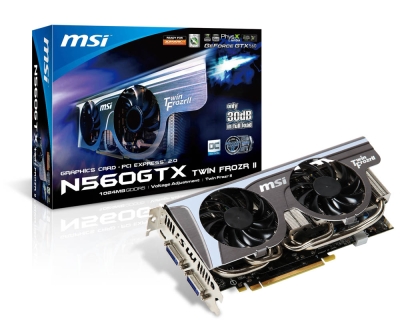 First up is MSI's N560GTX Twin Frozr II/OC - running at 870MHz, 1,740MHz, and 4,080MHz for the GPU, shaders and 1GB GDDR5 memory, respectively - and kitted out with the company's custom Twin Frozr II cooling solution. MSI tells us that even under full load, temperatures remain under 70°C, with noise levels reaching around 30dB. There are MSI's Military Class II components onboard, and support for the Afterburner overclocking utility too, enabling plenty of dabbling in the arts.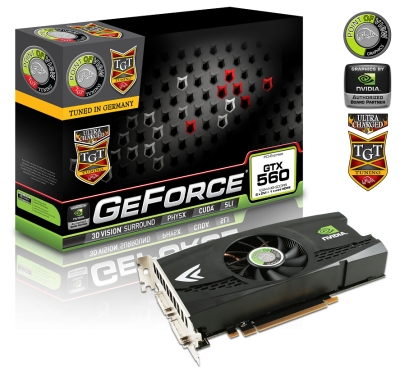 If it's the expertise of Point of View and the TGT Tuning Team you're drawn too, the GTX 560 1GB Ultra Charged flavour comes running at 900MHz, 1800MHz and 4,104MHz for the GPU, shaders and memory, respectively. We're told that there's significant overclocking headroom too, but if that's too much, there's also the Charged edition that goes with (slightly) more conservative speeds of 864MHz, 1,728MHz and 4,008MHz, respectively, for the GPU, shaders and memory.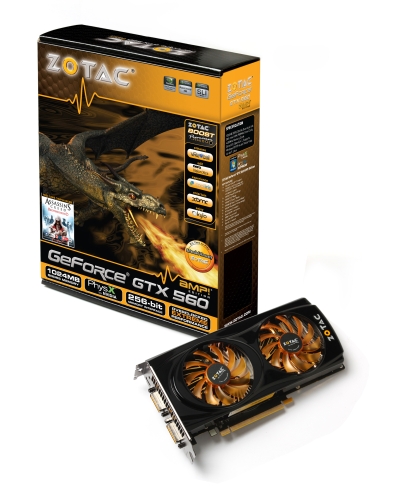 On the extreme end, ZOTAC and its GeForce GTX 560 AMP! SKU push even harder on those clock speeds. Here, you get the GPU chugging away at 950MHz, with the shaders and 1GB GDDR5 memory speeding away at 1,900MHz and 4,400MHz effective, respectively. As far as ZOTAC is concerned, it has extracted every ounce of performance from NVIDIA's new offering and strapped on a mighty dual-fan cooling solution to keep things turning over nicely.