The rumour-vine has moved on from delivering fruits, to presumably leaked slides claiming to contain the secret formula of NVIDIA's ambrosia - the GTX 590.
If AMD's offering wasn't quite your thing or you've simply been sitting on the fence, let's take a look at what seasoning-mix NVIDIA may be adding to its entrée.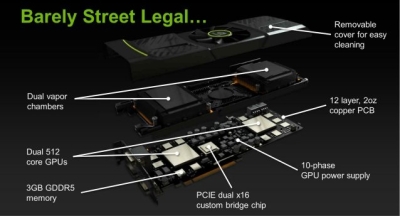 Apparently you won't be getting any semi-skimmed cores with the GTX 590. Dual GF110 GPUs with all 512 CUDA core flavours is the order of the day with 3GB GDDR5 memory (1,536MB per GPU), a 12-layer PCB faceted with 2oz copper and 10-phase GPU power system all in the cooking pot too.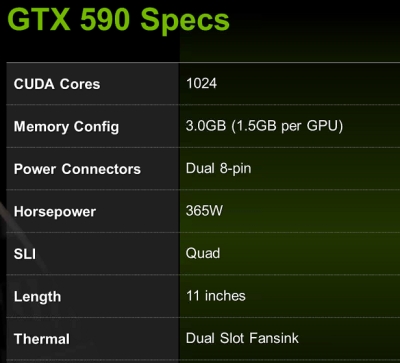 All that sounds like a potential oven so a gargantuan cooling solution, honing-in on the skills of dual vapour chambers, will be promoted to the task at hand. If other household chores are your poison, the cooling solution cover is described as removable to make work for your feather duster (or vacuum cleaner) that much easier.
NVIDIA's 11in spoon claims to be fuelled by dual 8-pin power connectors with TDP, very interestingly, listed at 365W.
Finish this all off with a proverbial pinch of salt, and let's see how it marinates. Being "barely street legal", this might have that chilli factor kicked right up.