Well that didn't take long. We already knew that the GF110 powering NVIDIA's new flagship was much more amenable to overclocking and Palit has wasted no time in preparing a factory-overclocked variant with the all-new GTX 580 Sonic.
This beast of a card will come with the core and shaders clocked at about eight per cent above stock frequencies. This works out to 835MHz for the GPU and 1,670MHz for the Cuda cores compared to 772MHz and 1,544MHz for the reference design. The massive 1.5GB frame-buffer has been given some special attention too, clocking in at 4,200MHz instead of 4,008MHz.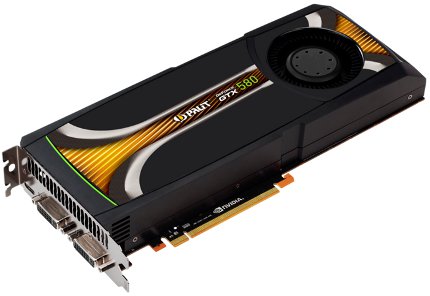 Even though eight per cent doesn't sound like a huge overclock, it will make this already speedy card even faster and turn it into - as far as we know - the most powerful GPU available. It's also pretty impressive for a factory overlock, considering that our own efforts at turning up the speed only managed to hit 870MHz for the core - a mere 12 per cent above reference frequencies.
Thankfully, NVIDIA's improved vapour-chamber cooler should help to keep temperatures in check despite the increased speed. It should also be able to keep noise-levels reasonable, which will be a nice departure from a factory-overclocked GTX 480.
You'll obviously have to pay a premium to take home the GTX 580 Sonic and the card is appearing at retailers for around £435. That's only eight per cent more than the cheapest stock-clocked cards, so you should see performance increase approximately in line with your extra investment.
For anyone with a big chunk of cash to drop on what is - for now - the absolute fastest single-GPU graphics card on the planet, Palit's take on the GTX 580 is available now.