Now we really have seen everything
NVIDIA's GTS 450 seems to be firm favourites with board manufacturers looking to stray from the reference design, and we've already seen low-profile and single-slot takes on the GPU. Its bigger brother, the GTX 460, has gotten a lot less love, though, and while we've seen plenty of custom coolers, clock-speeds and even interfaces, the form factor has stayed much the same.
Enter Galaxy, which is quickly developing a name for itself as a company that will design outside the box. Not content to merely copy Sparkle's skinny GTS 450, it has managed to cram a full-powered GTX 460 into a single-slot design.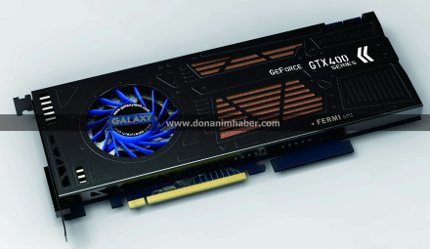 Amazingly, the core will still run at stock-speeds of 675MHz, pushing the 336 shaders along at 1,350MHz, while the 1GB GDDR5 will tick over at 3,600MHz. As efficient as the GF104 GPU runs, though, it'll still need some aggressive cooling to keep temperatures down, and the photos clearly show the large slab of copper hiding under the shroud. Even so, we've no doubt that the little fan will still have to work pretty hard to handle the cards 160W TDP.
According to DonanimHaber, who uncovered the details on the card, it's still in the prototype stage right now, which means that plenty could change before this GTX 460 is launched. If all goes to plan, though, it should be available from Galaxy - and hopefully KFA2 - in the coming months. For anyone in need of a single-slot GPU capable of serious gaming performance, we're not sure there are any better options than this.