We're big fans of Gigabyte's Super Overclock range of graphics cards - both the GTX 470 SOC and GTX 460 SOC have recently impressed - but we've been patiently awaiting the arrival of the grand daddy of them all, the Super Overclock'd GTX 480.
We caught a glimpse of the card back in September, and it had all the ingredients to become the best air-cooled GTX 480 on the market.
With a cherry-picked GPU factory-overclocked to 820MHz (up from 700MHz) and a 1,536MB GDDR5 frame buffer raised from 3,696MHz to 3,800MHz, performance should be excellent. And heat, noise and power consumption shouldn't be a problem, either, as Gigabyte claims its use of a WindForce 3X cooler and Ultra Durable components results in over a 10 per cent reduction on all accounts.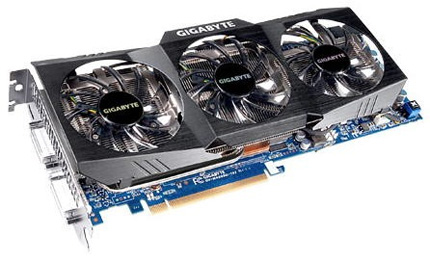 Despite the healthy out-the-box frequencies, the card is of course targeting the enthusiast who wants more. To the effect, Gigabyte arms the GTX 480 SOC with a 14-phase PWM (12 for GPU, two for memory) and two on-board BIOSes; the standard SOC BIOS and an LN2 BIOS designed to better withstand sub-zero overclocking.
The card's starting to appear at European retailers priced at around €440 (roughly £385), but here's the bad news: NVIDIA's new-and-improved GTX 580 looks set to become official next week, and if the price is right, the soon-to-be-old GTX 480 may lose its appeal.