Vroom-Vroom
It's been a few weeks since we've heard anything about AMD's upcoming GPUs, and even then, the legitimacy of the specs was a little suspect. Now though, two different sources have leaked identical slides with fresh details on the unreleased cards - and boy, do they look fast.
The tag-line reads 'twice the horsepower', and we don't think this sounds too far off. The Barts XT core - which will come to life as the Radeon HD 6770 - is reported to have four clusters of 320 stream processors, for a grand total of 1,280. This is just below the 1,440 on the HD 5850, and over 50 per cent more than the HD 5770 that it will replace.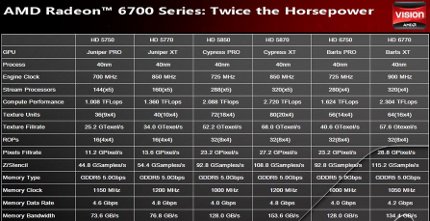 Combined with a clock speed of 900MHz, this card will have a maximum compute performance of 2.304 TFLops, which puts performance squarely between the HD 5870 and HD 5850. In fact, the specs of the new core consistently seem to split the difference between AMD's top two single-GPU cards.
The Barts PRO core - which is headed towards the HD 6750 - doesn't seem quite as impressive, but should still outperform the HD 5770 by a significant margin. However, its 1,120 stream processors and 725MHz clock speed are likely to leave it lagging quite a way behind the HD 6770.
As ever, there's a price to pay for this extra performance as load power-draw hits 146W for the Barts XT core - around 35 per cent higher than the HD 5770. Nonetheless, the card will still provide significantly more horsepower than the HD 5850 while using less power at load and idle, providing excellent performance per watt and showing exactly how much more efficient this tweaked core is.
As ever, this is just a rumour, though the fact that an expanded version of the slide was released from a second source shortly after the original hit the net gives some weight to these specs. Of course, we should know for sure when AMD officially launches the parts later this month.