We may be used to details leaking out about GPUs, but rarely do they come from official channels. This time, though, NVIDIA appears to have inadvertently posted details of the GeForce GT 420 to its website - a previously unannounced OEM card.
While the page has since been pulled, the wonder of Google Cache gives us the complete run-down on the GPU. The listing points to a 700MHz core-clock, meaning that the 48 shaders will be humming along at 1,400MHz. The memory will be DDR3 with a frequency of 900MHz connected through a 128-bit bus. Interestingly, the reference card has been given a 2GB frame-buffer - an excessively large amount for an entry level GPU.
As for outputs, a standard GT 420 will include DVI, HDMI and VGA, though you'll have to sacrifice the VGA port if you install it into a low-profile case.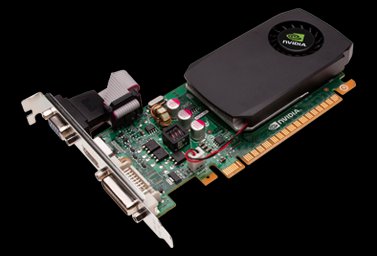 The PCB measures in at 5.7in (14.5cm) long and 2.7in (5.8cm) wide, while the small fan means that the card will easily fit into a single PCIe-slot. These dimensions combined with a 50W maximum power-draw mean that the GT 420 should make a great addition to a HTPC or low-power desktop.
The page lists support for DirectX 11, and the shader-count matches up with what we'd expect from a single Streaming Multiprocessor found on other recent Fermi-based cards. That means that this could be a modified version of the rumoured GF108 core that was destined for the unannounced GT 430 - though that's just conjecture at this point.
While a leak can't get a lot more official than this, the GT 420 obviously won't be showing up on shelves any time soon. However, as an OEM card, we can expect to see it appearing in low-end desktops in the coming weeks.