NVIDIA's upcoming low-to-mid-range GPUs might be all the rage on the Internet, but that doesn't mean manufacturers have forgotten about top-end Fermi cards. To that end, Gigabyte is letting loose a GTX 470 Super Overclock with a new cooler and a pretty huge speed boost.
Super-duper
Even though the design of the board seems fairly standard, the GPU on this new card manages to run at 700MHz for the core and 1,400MHz for the shaders, an impressive 15 per cent boost over stock speeds. According to the manufacturer, this should translate to a 12 per cent performance increase compared to reference models.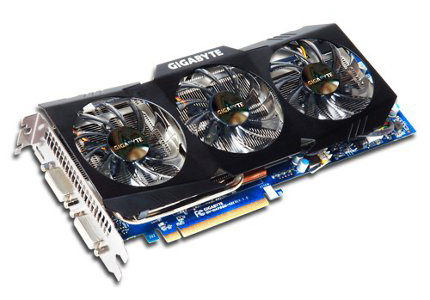 Gigabyte claims that this is possible due to its special GPU Gauntlet binning process. Chips are selected for the Super Overclock range only after surviving some serious testing to prove that they are the most stable and use the least power. In fact, this model is touted as having 17 per cent lower power-consumption than a reference GTX 470. We'll have to test the card to see if this is true, but higher clock speeds and a reduction in power draw on the same architecture would be an impressive achievement.
Tri-(Wind)force
Rounding out this premium model is an all new cooler-design which Gigabyte is calling Windforce. Only coolers with anti-turbulence inclined-fins, an ultra-quiet PWM fan and copper heat pipes will qualify for the branding. This may sound like a lot of marketing jargon, but the triple-fan design on the card promises a 12°C drop in load temperatures while making less noise than the standard NVIDIA cooler tested at the same clocks.
Considering how loud, hot and hungry the stock GTX 470 is, Gigabyte's Super Overclocked model should be a nice breath of fresh air. While we expect a premium model to decrease noise and temperatures, it's the lower power-usage and increased efficiency that really intrigues us.
For those looking for a GTX 470 with a little more oomph, this card should be available soon through all of the normal channels for around £325. This may be a tough sell with stock-clocked versions costing less than £250, but Gigabyte is serving up a lot of card to justify the price tag.