Even before NVIDIA's Fermi-powered video cards were launched earlier this year, the company went on record as saying that the architecture was all about general-purpose and massively-parallel computing. While this may not have seemed all that important to gamers, the professional and workstation crowd probably couldn't have been happier. Now, the company is finally releasing Quadro graphics cards based upon the new design to put those massively-powerful chips to work.
CUDA-Power
The flagship of this new line is the Quadro 6000. Considering that it features the same 448 CUDA cores as the GeForce GTX 470, we're confident this model is based upon the GF100 design, rather than the tweaked GF104 found in the new GTX 460. However, unlike any consumer product, this card is equipped with a full 6GB of error-correcting GDDR5 memory.
While the top-of-the-line model isn't launching until sometime later in the autumn, two other cards should be available immediately. The Quadro 5000 comes equipped with 352 CUDA cores and 2.5GB of memory onboard, while the Quadro 4000 is endowed with 256 cores and 2GB GDDR5. Mobile solutions based upon the same architecture should also be available at some point in the third-quarter of the year.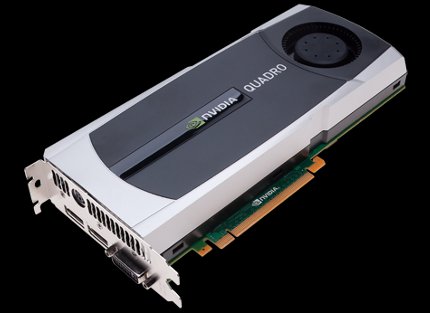 With all of this extra computing power, the manufacturer reckons that the new cards will make light work of even the most intensive tasks and deliver vastly improved performance over the previous generation. In fact, the company claims that the new cards are "exponentially better than anything the market has ever seen". Wow.
Building in 3D
However, NVIDIA is delivering more than just performance with these new chips. Today also marks the announcement of 3D Vision Pro. Designed to help engineers, designers, computational chemists and physicians properly visualise their work, the new system uses active-shutter glasses and 120Hz monitors, much like the consumer version, to deliver rich 3D content.
Workstation applications and high-performance computing always seemed to be what the Fermi architecture was destined for, and these new cards should prove a worthy upgrade for anyone looking for a new professional GPU. All three cards are currently available for pre-order from Scan, starting at £915 for the Quadro 4000, £2,008 for the Quadro 5000 and a research-grant-busting £4,205 for the Quadro 6000. The 3D Vision Pro kits should be available sometime in October, too.