Without any of the fanfare that surrounded the GeForce GTX 480 and GTX 470 desktop parts, NVIDIA has today quietly slipped out its first notebook derivative of the Fermi architecture in the form of the GeForce GTX 480M.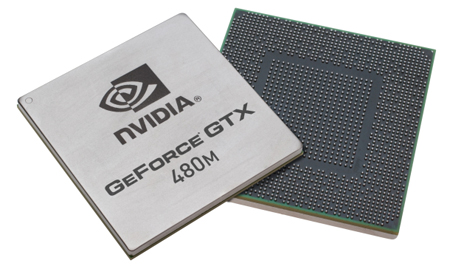 The high-end chip, announced via NVIDIA's official blog, is being touted as the world's fastest notebook GPU.
Described as "a true tessellation monster for the notebook platform," the chip supports many of the features available to the desktop equivalent, including 3D Vision, PhysX, CUDA, two-way SLI and support for DirectX 11.
In order to fit the thermal requirements of a high-end notebook, the mobile Fermi part will feature a core clocked at 425MHz, 352 stream processors clocked at 850MHz, and a GDDR5 frame buffer set to run at 1,200MHz.
There's no mention of power consumption as yet, but whilst the chip's unlikely to do mobile battery life any favours, it's certain to be welcomed by the mobile media-editing crowd, not to mention the gamers.
Clevo will become the first notebook manufacturer to adopt the GeForce GTX 480M GPU, but no other design wins have yet been announced. Not that NVIDIA isn't trying to spark an interest, mind you. In announcing the product, the GPU giant adds: "If a notebook maker wants to build the fastest possible system on the planet, they will start with GeForce GTX 480M as its foundation".