It's no secret that NVIDIA plans to bring its Fermi architecture down to the mid-to-high-end space with the launch of a GPU that's cheaper than both the GeForce GTX 480 and GTX 470, but it seems the upcoming card has made an appearance sooner than anticipated.
Whilst we've been expecting hoping to see the rumoured card at next month's Computex, it seems Chinese website eNet.com.cn has already been hands on with a board it's calling the GeForce GTX 465.
Slotting in beneath the GTX 470, the upcoming card is said to feature the same GF100 Fermi core (pictured right), only this time with a little less punch.
According to eNet's screen grabs, the card's core is clocked at a GTX 470-matching 607MHz, but it features three fewer SMs (Streaming Multiprocessors) - resulting in a reduction of stream processors from 448 to 352.
The amount of GDDR5 memory is lowered to 1,024MB, and the memory bus width is reduced from 320-bit to 256-bit. We can't confirm if eNet's card is a final design, but if it is, NVIDIA's GeForce GTX 465 looks set to shape up with the following specification:
Graphics cards
GeForce GTX 465*
(1,024MB)
GeForce GTX 470
(1,280MB)
GeForce GTX 480
(1,536MB)
GPU clock
607MHz
607MHz
700MHz
Stream processors
352
448
480
Stream processor clock
1,215MHz
1,215MHz
1,401MHz
Memory clock (effective)
3,206MHz
3,348MHz
3,696MHz
Memory interface
256-bit
320-bit
384-bit
Memory size
1,024MB GDDR5
1,280MB GDDR5
1,536MB GDDR5
Manufacturing process
TSMC, 40nm
TSMC, 40nm
TSMC, 40nm
DirectX/ Shader Model
DX11, 5.0
DX11, 5.0
DX11, 5.0
ROPs
32 ?
40

48

Board power (max)
<200W ?
215W
250W
Board length
9.5in ?
9.5in
10.5in
Connectors (native)
2x dual-link DVI
Mini-HDMI
2x dual-link DVI
Mini-HDMI
2x dual-link DVI
Mini-HDMI
Retail price
£225 ?
£300
£430

*unconfirmed product, rumoured/leaked specification
How will the specification translate to real-world performance? It seems to be a mixed bag. eNet's early benchmarks suggest the GeForce GTX 465 had the edge over Radeon HD 5870 in Far Cry 2, but is notably slower than Radeon HD 5830 in Crysis Warhead.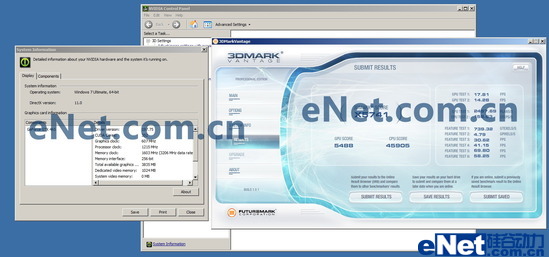 A run of the 3DMark Vantage synthetic benchmark at extreme settings gives the GTX 465 GPU a score of 5488, which indicates that the card will offer roughly 20 per cent less performance than GTX 470.
Enough to make it a worthy contender to AMD's ATI Radeon HD 5850? We'll find out soon enough, as the word coming from China is that NVIDIA will officially unveil the GeForce GTX 465 at Computex on June 2nd.
*The eNet article has since been pulled but can be found using the web's cached pages.