The weeks leading up to a major technology launch are always going to be riddled with Internet leaks, and the upcoming introduction of NVIDIA's GeForce GTX 480 graphics card - codenamed Fermi - is no exception.
Scheduled to be launched on March 26th, NVIDIA's card has already been priced, pictured and detailed over the course of the last month. Accompanying the steady flow of information is a set of in-house NVIDIA benchmarks, which claim the GeForce GTX 480 to be superior to AMD's fastest single-GPU competitor, the ATI Radeon HD 5870.
NVIDIA's own benchmarks have to be taken with a pinch of salt, but the first of what appears to be real-world benchmarks have now arrived to back up NVIDIA's claims. Surfacing at Arabic technology site arabhardware.net, the brief benchmarks pit NVIDIA's latest against an ATI Radeon HD 5870 across four benchmarks; DiRT 2 in DirectX 11 and Far Cry 2 in three resolutions.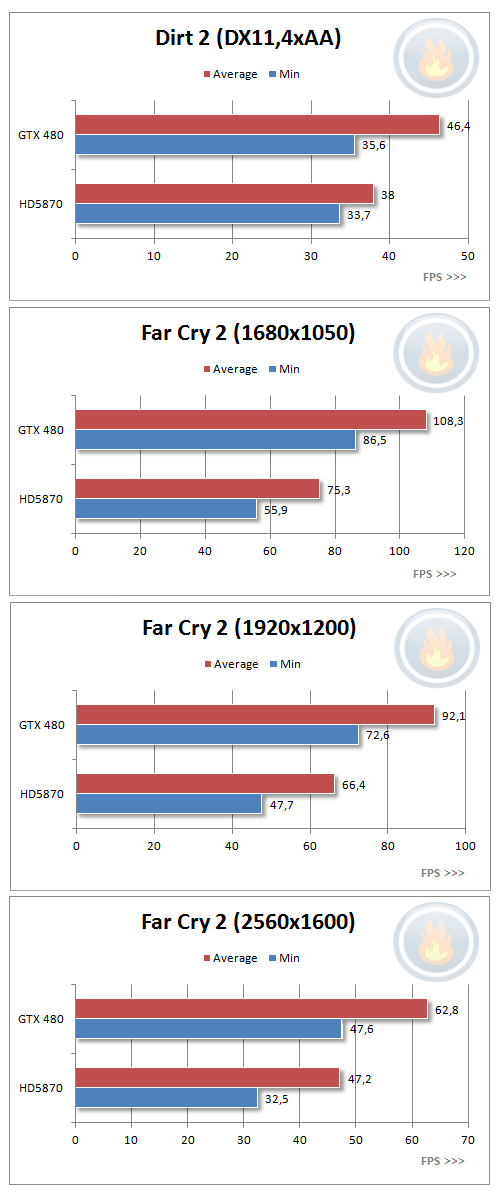 We can't comment on the authenticity of the results, but the figures reinforce the belief that NVIDIA's GeForce GTX 480 will become the fastest single-GPU graphics card on offer.
HEXUS will of course be bringing you the definitive verdict, so stay tuned for our in-depth review later this week. In the meantime, feel free to mull over the above benchmarks in the HEXUS.community forums, and remember to head over to SCAN this Friday if you want to partake in an exclusive NVIDIA Fermi launch event.