NVIDIA has done a decent job of keeping its next-generation architecture, codenamed Fermi, under wraps, but with the official launch scheduled to take place next week, details are now beginning to slip through the cracks.
Getting the party started is Turkish site donanimhaber.com, who appears to have leaked official slides showcasing NVIDIA's upcoming range topper, the GeForce GTX 480.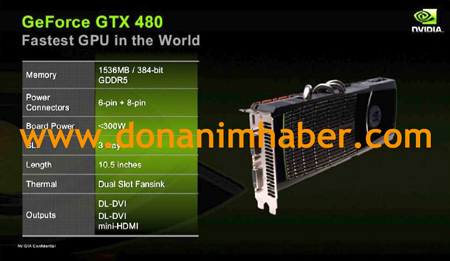 The slides don't provide as much details as we'd like, but they do give us the first image of NVIDIA's reference design - complete with protruding heatpipes.
The brief spec sheet confirms that 1,536MB of GDDR5 memory will be on board, connected via a 384-bit interface, and that the card will consume anything up to 300W of power.
Measuring around 267mm in length, the card sports both six-pin and eight-pin power connectors, and will feature dual-link DVI and mini-HDMI outputs.
It's still impossible to get an idea of real-world performance without finer details such as shader count and core speeds, but it's no surprise that NVIDIA reckons the GeForce GTX 480 is superior to AMD's ATI Radeon HD 5870 in every way: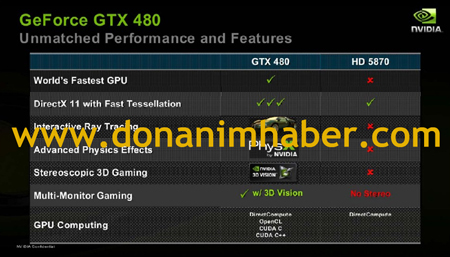 Stay tuned, folks, all the important details will be made available in about a week's time.
[Update] HEXUS.community member Snootyjim has kindly provided another take on the above-leaked slide, and seeing as NVIDIA itself enjoys a bit of a banter, we felt it would be remiss not to post it.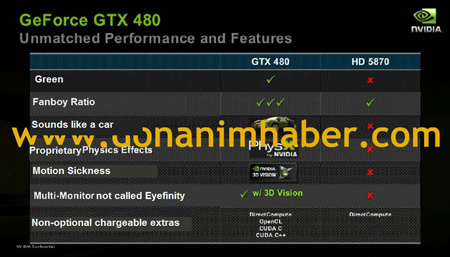 Question is, which of the two slides is the most accurate?