HEXUS's stupendous coverage of CeBIT 2010 is drawing to a close, and whilst we've already seen monster AMD graphics card from the likes of Sapphire, ASUS and PowerColor, it turns out there's another impressive offering in the works by XFX.
XFX's card, tentatively dubbed the Radeon HD 5970 Black Edition Limited, has been pictured by German website Tweakers.net and is said to be sporting a couple of useful extras, and then some.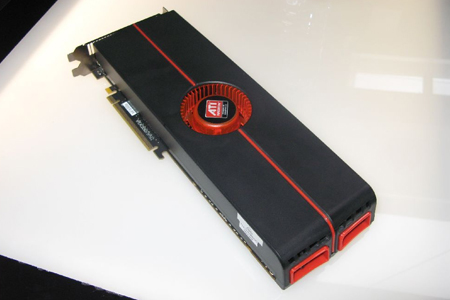 Despite looking a lot like a regular Radeon HD 5970, XFX's card is said to stray from AMD's reference design by featuring a pair of GPUs clocked at 850MHz apiece, attached to a a massive 4GB GDDR5 frame buffer clocked at an effective 4,800MHz.
Put two and two together and you might conclude that this is in fact two Radeon HD 5870 cores on a single PCB - ala the Sapphire Radeon HD 5970 4GB seen earlier this week.
Should that be the case, XFX is likely to need something a little bit more lively in terms of cooling, and the pictured heatsink-and-fan is said to be merely a pre-production sample, with something else in store for the final retail model. Speaking of production, XFX is believed to be producing just 1,500 of these cards, and it'll be bringing them to retail at around $1,000 each.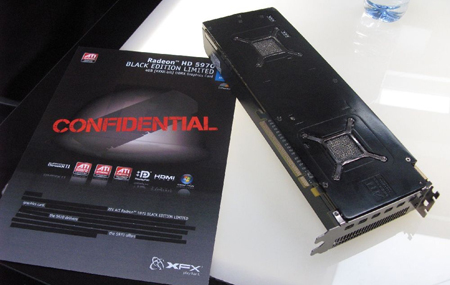 The seemingly-hidden stack of goodies doesn't end with the souped-up GPUs, either. Take a look at the card's outputs and you'll notice it stands out from the crowd with support for ATI Eyefinity 6, via half-a-dozen mini DisplayPort outputs.
All that goodness is going to need a fair bit of power, of course, and the card will be fed by dual eight-pin power connectors.
It won't be cheap to buy, and it won't be cheap to run, but if you're going to go ahead and game on six monitors at once, this is probably the way to do it.