We reckon there's a good chance NVIDIA's next-generation GPU - codenamed Fermi - will be publicly unveiled in the coming weeks, but at least one U.S. retailer appears to have jumped the gun.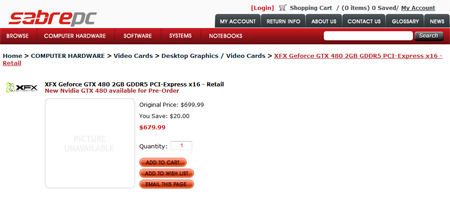 SabrePC is the retailer in question, and it has an XFX GeForce GTX 480 available for a massive $679.99.
There's little information on the card itself - and no product image, unfortunately - but SabrePC does reveal that the card will feature 2GB of GDDR5 memory. Knowing that NVIDIA's card features a 384-bit memory interface, we're going to go ahead and presume that the retailer is hinting at a massive 2,304MB frame buffer.
The suggested price and amount of GDDR5 memory has to be taken with a pinch of salt, but it certainly looks as though NVIDIA is gearing up to unveil its long-awaited range of GeForce 400-series products. Taking the company's latest teaser into consideration, Fermi could finally be revealed to the world at the Penny Arcade Expo next month in Boston.
Thanks to HEXUS.community member GheeTsar for the tip!