NVIDIA has quietly updated its product pages to include the first graphics card from the GeForce 300-series line.
Don't get too excited, though, as the first 300-series product is a low-end solution that's currently available to OEMs only. Dubbed the GeForce 310, the card isn't based on the upcoming Fermi architecture and is instead a basic GT200-series card with a GPU clocked at 589MHz and 16 stream processors clocked at 1,402MHz.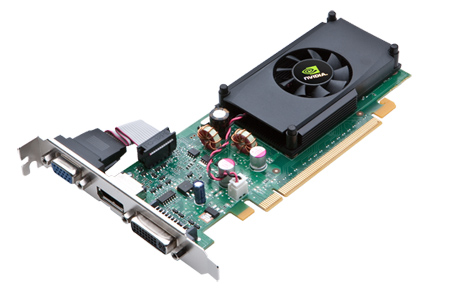 Look familiar? It should do, as it's little more than a rebranded GeForce 210. As far as we can tell, there's no physical change, despite the massive jump in model number.
Seems as though NVIDIA might be padding out the low-end GeForce 300-series range with rebranded 200-series cards. Meanwhile, the company's first DirectX 11 cards, based on the all-new Fermi architecture and expected to fill the mid-range and high-end segments, are rumoured to have been delayed until the first quarter of fiscal 2011.