AMD stretched its legs in the ultra-high-end gaming space earlier today with the launch of its ATI Radeon HD 5970 graphics card - a dual-GPU solution that we've concluded is the fastest gaming card money can buy.
The graphics industry is known to move quickly, though, and with the reference ATI Radeon HD 5970 showing reasonable overclocking headroom, we intimated that faster-clocked models would appear near launch day.
Not a moment too soon, say hello to Sapphire's Radeon HD 5970 OC - a factory overclocked model that should, for now, be the fastest gaming card going.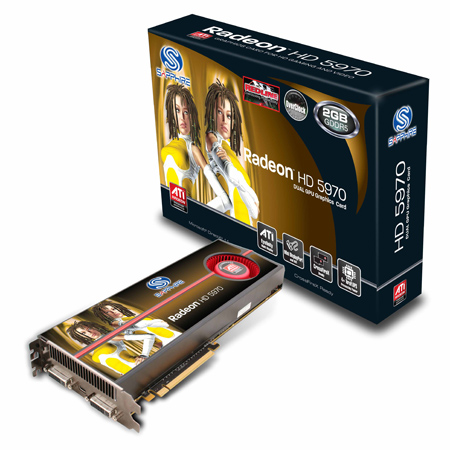 Building on AMD's reference design, Sapphire's solution features twin GPUs clocked at 735MHz - up from 725MHz on stock-clocked cards - and 2GB of GDDR5 memory that has also been given a modest boost, rising from an effective 4,000MHz to 4,040MHz.
Not a massive increase by any means, but let's face it, this is a card that flies at reference levels. Nonetheless, users wanting to squeeze as much juice out of the product as possible will welcome Sapphire's bundled Redline Voltage Tweaker tool - a 5970 OC-exclusive software component that claims to enable higher levels of overclocking.
As with AMD's reference card, the Sapphire HD 5970 OC features a trio of ATI Eyefinity output, facilitating three monitors with an overall resolution of up to 7,680x1,600.
Sapphire tells us the card is shipping now and includes a copy of BattleForge and a coupon for upcoming DX11 title, DiRT 2. Feeling rich? Ebuyer has the card available to pre-order at a cost of £489.99. Want to know exactly how much quicker Sapphire's card is? Stay tuned as the HD 5970 OC has landed in HEXUS' labs and will soon be put through its paces.