Flashing the 3D Camera about
Nvidia's CEO, Jen-Hsun Huang, is usually larger than life and 'in your face', but today, at his Nvidia GTC keynote, he chose to show off a gadget which matched his personality, in the shape of a new 3D camera from Fujifilm.
Fujifilm's FinePix Real 3D W1 camera is apparently the world's very first commercial 3D digital imaging system able to capture not only pictures, but also film and offering prints in 3D that punters won't have to don silly glasses to look at.
Jen-Hsun, waving the camera around above his head enthusiastically, announced to the audience that not only was the W1 '3D', but it was also "Nvidia 3D vision-ready," meaning that, if you really wanted to, you could don some silly glasses to self indulgently ooh and ahh over your own shots in dizzying three dimensional full HD style on your PC.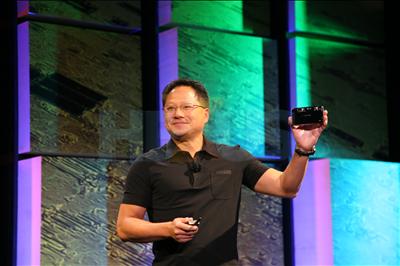 The camera sports a "FinePix Real 3D Lens System," with dual 3x optical zoom Fujinon lenses to meld together two separate images. The system also purportedly filters out vibration, or shaky hand syndrome, for clearer shots.
The images are displayed in full glory on the massive 8-inch LCD display panel on the back which, mercifully, does not require users to slip on their shades before viewing. Users should be able to enjoy the 3D effects with their own eyes.
Also, if 3D makes you feel a little nauseous and there's no one around to impress, the camera also handily shoots normal 2D pictures too.
The camera has just gone on sale in the US today for a princely $600, and is currently being introduced worldwide. A special viewer will be sold separately for $500, whilst special 3D prints will go for a whopping $7 a shot.