It has been a while since the likes of Inno3D and ZOTAC showed us their versions of NVIDIA's single-PCB GeForce GTX 295, but the refined GPU champ now appears to be making its way to retail.
Over at SCAN.co.uk* today, listings for single-PCB GeForce GTX 295 cards are available from both EVGA and XFX - with the latter currently in stock.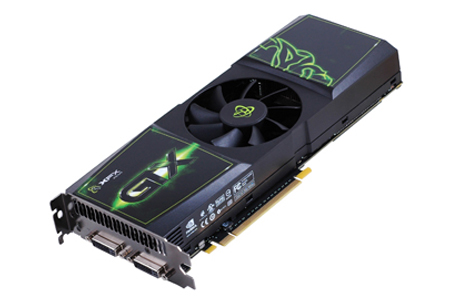 XFX's card, pictured above, features reference frequencies of 576MHz for each GPU, 1,242MHz for the 480 stream processors, and 1,792MB of slightly-quicker 2,016MHz GDDR3 memory.
As you're no doubt aware, NVIDIA's re-jigged design squeezes both of the GeForce GTX 295's GPUs onto a single PCB in a side-by-side arrangement. The theory, we reckon, is that a single-PCB card should be cheaper to produce.
So is the saving being passed on? Well, kind of. The single-PCB card from XFX is currently being offered at a cost of £370 - that's approximately £10 cheaper than XFX's standard dual-PCB alternative.
Not a massive saving by any means, and a bit of shopping around will find a standard GTX 295 available for under £350. Pricing, it seems, isn't a major selling factor for the re-jigged card. As for performance, stay tuned as we'll be putting Inno3D's single-PCB GeForce GTX 295 through its paces to determine whether or not the redesign has any merits.
*As always, UK-based HEXUS.community discussion forum members will benefit from the SCAN2HEXUS Free Shipping initiative, which will save you a further few pounds plus also top-notch, priority customer service and technical support backed up by the SCANcare@HEXUS forum.