NVIDIA has launched the ninth iteration of its GeForce 9 series products in the form of the GeForce 9400 GT.
The low-end card will retail at prices as low as $59, and there's no shortage of offerings from various NVIDIA partners, including ASUS, BFG, Colorful, Emtek, EVGA, Gainward, Galaxy, Gigabyte, Innovision, Leadtek, MSI, Palit, Zotac, PNY, Point of View, Unika, Unitek, and XFX.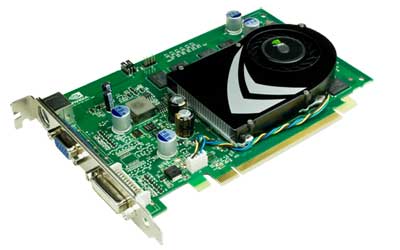 The card, pictured above, is a mildly quicker replacement for the ageing GeForce 8500 GT. The new-and-improved GeForce 9400 GT offers 16 stream processors, a GPU clocked at 550MHz, and 512MB of memory clocked at 400MHz - providing 12.8GB/s of memory bandwidth.
As a possible low-cost HTPC solution, the GeForce 9400 GT features NVIDIA's high-definition PureVideo Technology and will offload video processing tasks from your CPU to your graphics card. It'll provide dual-link DVI connectivity, and HDMI via an adaptor.
Ujesh Desai, general manager of GeForce desktop products, said:
"GeForce 9400 GT GPUs are a great solution for consumers to optimise the performance of their PC for everyday applications, such as getting online directions through Google Earth or Microsoft 3D maps, or surfing the web for photos using an interactive plug-in like PicLens."
The GeForce 9 series now encompasses just about every market segment, and the complete line-up is as follows:
GeForce GTX 280
GeForce 9800 GX2
GeForce GTX 260
GeForce 9800 GTX+
GeForce 9800 GTX
GeForce 9800 GT
GeForce 9600 GT
GeForce 9500 GT
GeForce 9400 GT
UK etailer Scan.co.uk has a variety of GeForce 9400 GT graphics cards available for pre-order, with prices starting at £39.55. It should be noted, however, that a further £5 would get you a GeForce 9500 GT.
Official press release:
NVIDIA GeForce 9-Series GPUs Now As Low As $59
Partner launches:
Point of View announces GeForce 9400 GT
Bring your PC to Life for Less with Inno3D GeForce 9400GT
ZOTAC Unleashes New Affordable GeForce 9 series