SLI remains a very niche product, but it isn't through lack of trying. Everyone who's anyone in the NVIDIA camp has been pushing SLI as the ultimate must-have for the gaming enthusiast, but it just hasn't proven to be feasible.
However, what if we had a single bundle that provided two NVIDIA 9800 GTX+ graphics cards and a liquid-cooling system? That, in our opinion, would make SLI a touch more attractive and that's exactly what ECS has on offer in the form of its GeForce 9800 GTX+ Hydra Pack.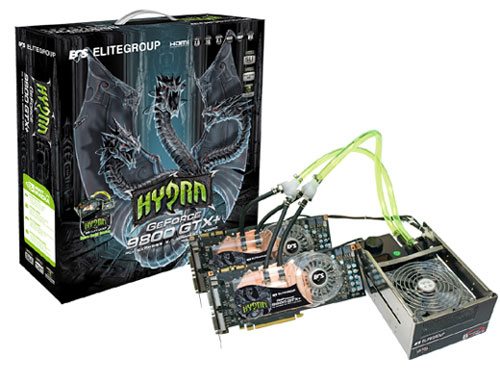 The SLI-ready Hydra Pack, pictured above, features two N9800GTX+-512MX-W graphics cards and ECS' Hydra Cooling System. The cards clock in with a 738MHz core and provide 512MiB of GDDR3 memory clocked at 2,200MHz.
ECS' cooling solution has been developed in conjunction with Thermaltake and uses a design taken from the BigWater 760i system. ECS states the Hydra Pack will lower temperatures by nearly 19 per cent, whilst keeping a whole lot quieter than traditional air-cooling.
The complete package also features Tom Clancy's Rainbow Six Vegas 2, which is a pretty nice addition. It's all looking like a very tasty bundle, but we're still waiting on the key piece of information; pricing.