AMD has remained tight-lipped when it comes to its forthcoming Radeon HD 4000 series graphics cards. Nonetheless, it has NVIDIA slightly worried, we feel.
Today, NVIDIA announced yet another addition to its GeForce 9 series line up, the GeForce 9800 GTX+, an overclocked derivative of its 9800 GTX.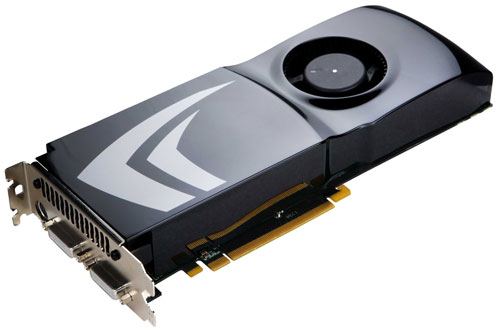 So, what's new? Well, a considerable bump in speed, for starters. A stock 9800 GTX provides clock speeds of 675MHz core and 1688MHz shader. The new-and-improved 9800 GTX+ bumps those figures to 738MHz and 1836MHz, respectively.
Those, we believe, are the reference speeds. NVIDIA's partners are likely to crank those figures up another notch with their overclocked boards. So how exactly has NVIDIA raised speeds? We already knew that the 9800 GTX scaled pretty well, but there's something else afoot - NVIDIA's 9800 GTX+ is the 55nm refresh of G92.
That 55nm shrink, however, isn't without consequence. Despite the 9800 GTX+ having raised core and shader clock speeds, its memory runs at 2,000MHz - that's 200MHz slower than the old 9800 GTX, and a point that NVIDIA isn't making well known.
We'd expect the 9800 GTX+ to be available as soon as next month, and to coincide with the launch, NVIDIA plans to provide a new set of drivers that are said to offer "a terrific performance boost".
What's more interesting, however, is pricing. NVIDIA will launch the 9800 GTX+ at $229 and it claims that to be the best single card price/performance offering. That, in turn, will see the price of the current 9800 GTX plummet - today, it's priced at $290 and NVIDIA tells us that will soon drop to as little as $199.
If those price drops are reflected in the UK market, we could soon see 9800 GTX cards drop from around £180 to £125!
It's all very promising for the consumer, but it begs the question; what does AMD have in store with the Radeon HD 4800 series to have forced NVIDIA into making such aggressive price cuts?
Take a look at our pre-launch look at the Radeon HD 4850, and keep your eyes peeled for our forthcoming review. The graphics war is hotting up, and this'll be an interesting one.