AMD partners launched their Radeon RX 5500 XT graphics cards yesterday. This 1080p AAA and eSports gaming targeted graphics card was made available in 4GB and 5GB variants with a wide range of designs from the host of AMD partners, as you might expect. HEXUS looked at what might be one of the best examples of this entry level gaming product, the Sapphire RX 5500 XT Pulse, which brings the 7nm RDNA architecture to a wider audience in a high volume segment. The vast majority of cards I have seen from all the other vendors look a lot like the Sapphire, with a twin fan cooling solution, but there are a couple of outliers.
Asus
Asus sent HEXUS a press release about its two new graphics cards, the ROG-STRIX-RX5500XT-O8G-GAMING and DUAL-RX5500XT-O8G-EVO. These both offer 8GB of VRAM, an OC boost mode clock of 1865MHz but their Game Mode clocks are 1737MHz and 1733MHz respectively.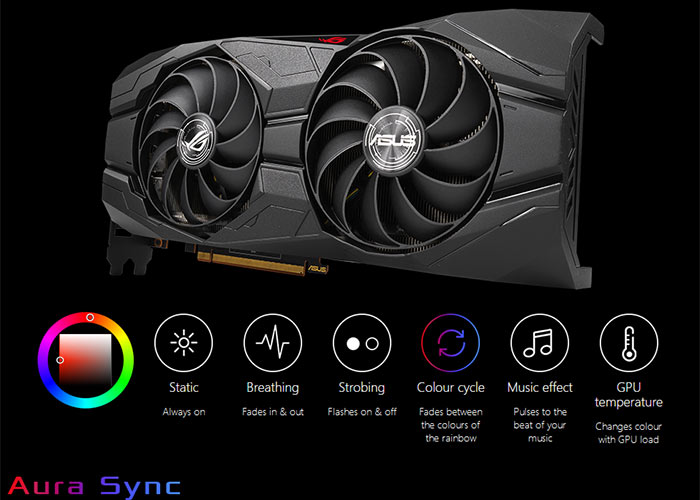 While only the Strix features RGB LED lighting, both of the Asus RX 5500 XT cards are dual fan models with 0dB modes and backplates but you will find the ROG Strix version is somewhat larger at 28 x 12.7 x 5.8cm vs 24.2 x 13 x 4.9cm due to its more substantial cooler.
Gigabyte
Gigabyte launched just a pair of Radeon RX 5500 XT cards too. However, its brace offers greater differentiation; a Gigabyte Radeon RX 5500 XT Gaming OC with triple 80mm fan WindForce cooler and a Gigabyte Radeon RX 5500 XT OC version with twin 90mm fan WindForce cooler. 8GB and 4GB versions of these cards are being made available.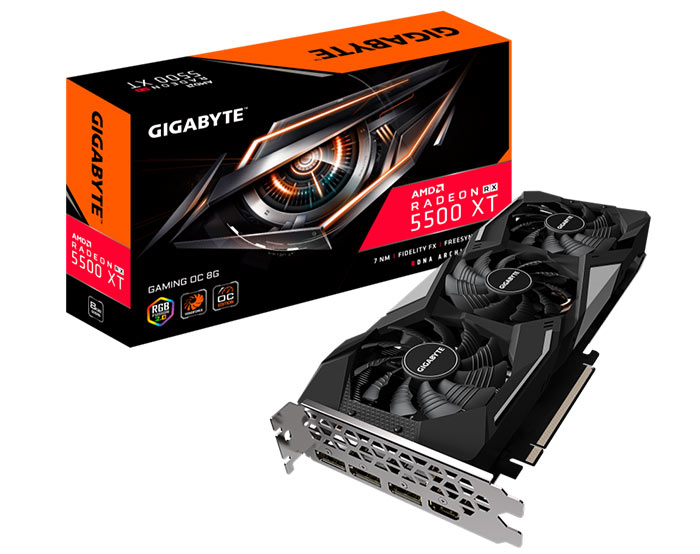 Like Asus, Gigabyte reserves RGB lighting to its premium model - the Gaming OC version. Whichever model you choose the Boost Clock is up to 1845MHz, however the Game Clock is 1737MHz on the Gaming card and 1733MHz on twin fan model, which you can see compared here.
MSI
MSI published its press release ahead of NDA yesterday - but is yet to upload its product pages. Luckily its PR is quite detailed and contains a features and specs table to make its offerings clear.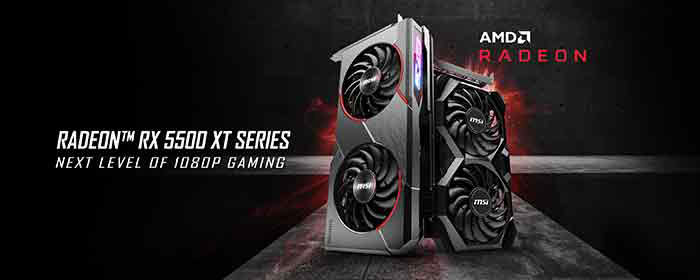 With the biggest range of offers so far, MSI has four different cards, or eight if you count the 4GB and 8GB versions separately. However this large number doesn't represent any significant product differentiation. Its Radeon RX 5500 XT Gaming Series is split into four SKUs by small differences in Gaming clocks, as well as the memory differences. The same applies to the MSI Radeon RX 5500 XT Mech Series. Furthermore, both the higher-end Gaming and cheaper Mech cards are dual-fan models.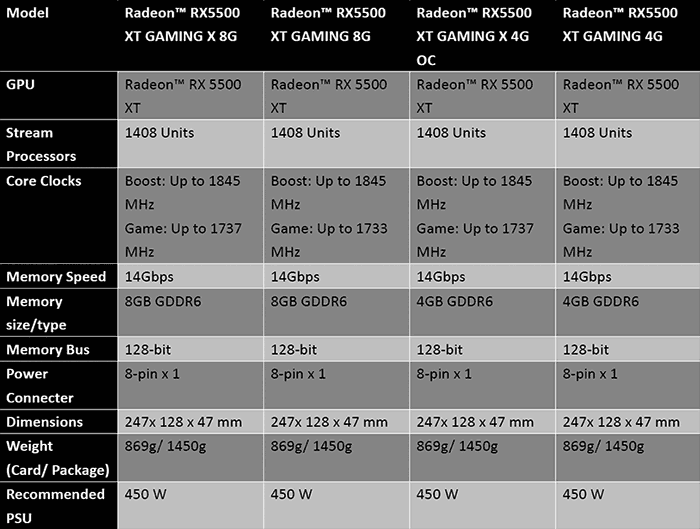 Considering differentiation again, the MSI Radeon RX 5500 XT Gaming Series feature metal backplates and Mystic Light RGB LEDs, while the Mech Series do not.
Others
You can also check out the new ASRock and PowerColor AMD Radeon RX 5500 XT cards if you wish. The former is offering an overclocked twin fan model in 4GB and 8GB versions.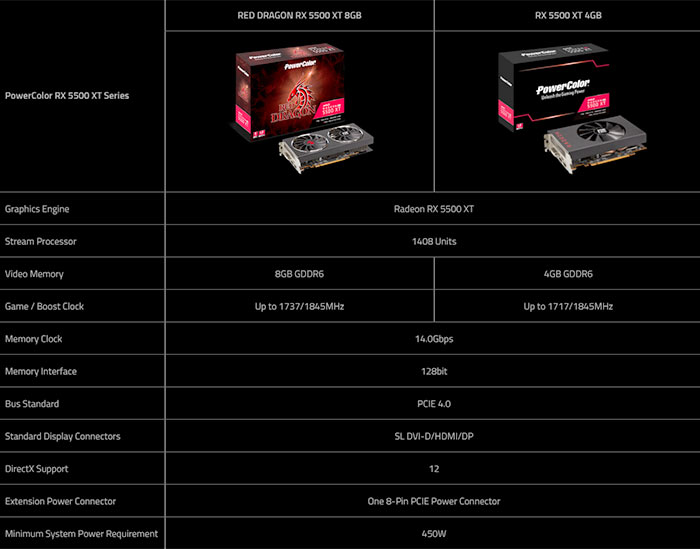 PowerColor produces the only compact version of the AMD Radeon RX 5500 XT I have seen in the guise of the PowerColor RX 5500 XT 4GB. This is offered as an alternative to its Red Dragon RX 5500 XT 8GB. Both have 0dB fan technology.