NVIDIA officially announced the line-up of its newest laptop-based discrete graphics cards and IGPs today.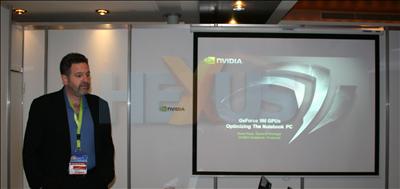 Rene Haas, manager for mobile products, ran through a presentation that highlighted the arrival of the GeForce 9M family of mobile products.

Talking specifics, two motherboard-based IGPs, GeForce 8200M G and GeForce 9100M G, will find their way on to boards for both Intel and AMD mobile CPUs. No hard specifications were revealed, however, suffice to say that both support DX10 and PureVideo HD.

Both IGPs also support HybridPower and Hybrid SLI, where a discrete GeForce 9-series mobile GPU, should one be installed, can be either turned off when not required (HybridPower) or leveraged in conjunction with the onboard GPU for extra performance (Hybrid SLI, GeForce Boost).

The discrete card line-up is sub-divided into two further categories: mainstream and performance.

Mainstream will include the GeForce 9200M GS, 9300M GS, and 9400M, and we reckon these are the best GPUs for the Hybrid SLI and GeForce Boost features, simply because their low-end architecture matches up well with the IGPs'.

The performance bracket also has three SKUs: GeForce 9500M G, 9600M GS, and 9600M GT. Other than noting that they all supported HybridPower, no specification details - clock frequencies, shader counts, etc - were revealed.

There will be another five GPUs aimed at the enthusiast, launched on June 17th, and these are the GeForce 9700 GT, 9700 GTS, 9800 GT, 9800 GTS, and 9800 GTX. Haas alluded to the fact that the range-topping 9800 GTX is some 25 per cent faster than the incumbent 8800 GTX mobile variant. 

A total of 13 new GPUs that all support Hybrid Power. We were privy to a laptop demonstration where the discrete 9-series GPU was effectively disconnected, through Vista's Power Management, and video run through the IGP, much like AMD's PowerXpress. The process took less than 10 seconds and was achieved by a simple toggle from the system tray.

The discrete cards also carry the same PureVideo HD ability as the 9-series desktop models, so support for Blu-ray Profile 2.0 and Live.

More speed, SLI at the top end, and Hybrid SLI at the low-end, along with an (un)healthy dose of nomenclature, then.

Expect to see the IGPs and discrete GPUs to start appearing in August, just in time for Centrino 2.