As part of the HEXUS in-depth review of the first Nvidia GTX 1660 Super graphics card in our labs, we gave passing mention to some new features in the supporting launch driver, version 441.08. However, this software is worth a closer look on its own merit, for the benefits it will bring to those who currently use a system packing one of the green team's GPUs.
Nvidia has lots of information about the new driver and its features online. As well as the overview video, embedded above, it has the usual technical release notes (PDF link), plus a more user-friendly blog post to peruse. Highlights of the new driver release are; ReShade, Image Sharpening, and Low Latency technology, and I will tackle them in that order.

With the 441.08 update, users will be able to directly import and apply hundreds of enthusiast-made ReShade filters. In case you don't know, ReShade allows users to add custom post-processing to games for all sorts of subtle-to-wild effects. Now, in over 650 games, users will be able to hit Alt-F3 to adjust the look of the title using ReShade filters in real-time. Furthermore, in Ansel games you can press Alt-F2 to compose scenes with ReShade filters applied via the GeForce Experience UI.
To get you started with ReShade, Nvidia has put together a curated collection (zip file archive link) of ReShade filters. However, if you are very enthusianstic about this feature, a larger selection is available directly from the ReShade Github repository.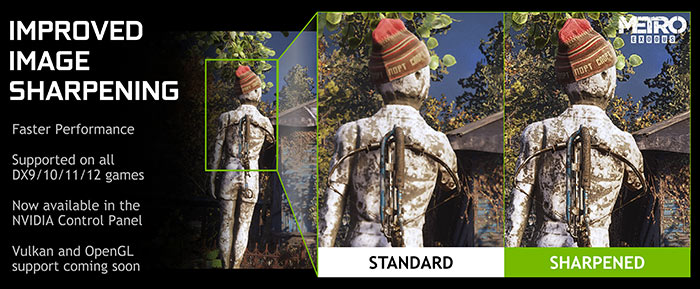 Image sharpening tech has proved popular with AMD Radeon users (RIS) for its performance boosting and image enhancing abilities. Nvidia is muscling into this action by implementing Image Sharpening in all DirectX (DX9 through 12) games via the Nvidia Control Panel, with optional upscaling feature.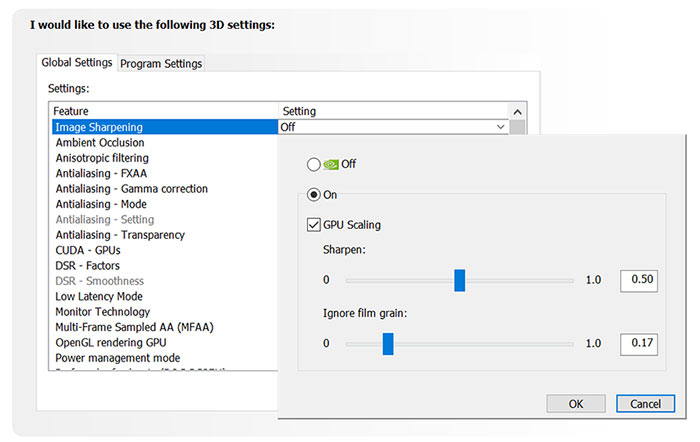 Again this filter can be adjusted on a per-game basis or applied globally in all your games.
Nvidia Ultra Low Latency (NULL) mode echoes the capabilities of AMD's similar tech but on G-Sync and G-Sync Compatible displays. In this driver update Nvidia GPU users with compatible monitors will be able to benefit from significantly reduced latency with VRR monitors. Users can toggle NULL between off/on/ultra via the Nvidia control panel 3D settings on a per-game or global basis.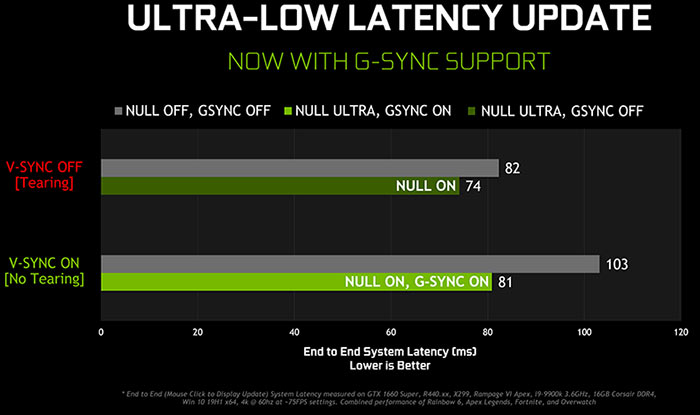 In addition to all the above, Nvidia has added a host of Optimal Playable Settings (OPS) which now provides one-click optimised settings for the likes of; Borderlands 3, Gears 5, GRID, Tom Clancy's Ghost Recon Breakpoint, and many more.
If you haven't done so already, please check out the HEXUS review of the Gigabyte GeForce GTX 1660 Super Gaming OC, which we gave a HEXUS Approved award. Gigabyte also launched the GTX 1660 Super OC 6G, GeForce GTX 1660 Super Mini ITX OC 6G, and GeForce GTX 1650 Super WindForce OC 6G Gaming graphics cards yesterday.