We've seen various graphics cards whilst walking around the COMPUTEX halls today, ranging right up to the likes of NVIDIA's GeForce 9800 GX2 and AMD's Radeon HD 3870 X2. Those, however, haven't managed to pique our interest.
What we really want to see at one of the world's largest technology shows, is next-gen offerings from both NVIDIA and AMD, namely the GeForce GTX 200 series and the Radeon HD 4000 series.
To our excitement, however, it appears that GIGABYTE has the aforementioned products hiding somewhere in its line-up. Whilst rummaging around the GIGABYTE stand, we managed to snap these exclusive images of graphics-card placeholders: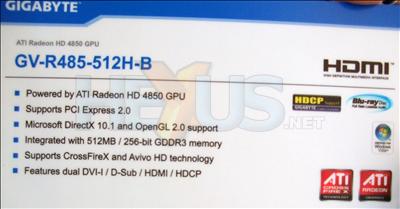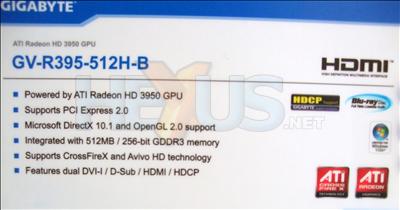 If GIGABYTE's placeholders are correct, and we have no reason to believe that they aren't, AMD's next-gen offerings aren't the quantum leap we'd hoped for. Both cards are said to provide 512MiB of GDDR3 memory, not the GDDR5 that AMD had promised. Though, these could, of course, be only mid-range derivatives.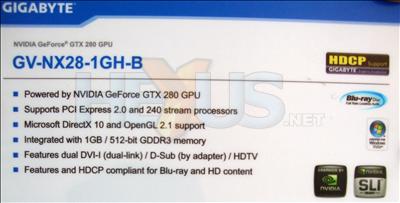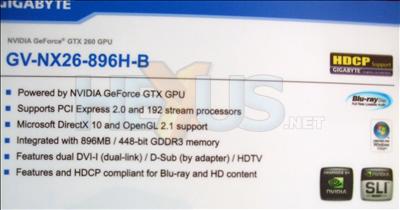 The NVIDIA GeForce GTX 200 series placeholders are more revealing, providing stream processor counts and memory pathway widths. For example, the GTX 260 (pictured above) will be equipped with a 896MiB frame buffer connected to a GPU via a 448-bit pathway.
If we assume NVIDIA's partners use 2GHz-rated GDDR3, as we've seen on current 9 series SKUs, the lowest specified GTX 200 series card, will have a theoretical memory bandwidth of 112GiB/s.
The high-end GTX 280, almost doubles the current stream processor count of the single-GPU 9800 GX2 by providing 240. The efficiency of the stream processors isn't disclosed, but previous reports indicate an improvement.
It's possible that GIGABYTE just happens to have the placeholders, but can't yet show the products. On the other hand, it could mean that it has the cards in hand. Either way, we'll be paying another visit to the GIGABYTE stand tomorrow.