Multiple references to an Nvidia GeForce RTX 2080 Ti Super graphics card were unearthed on the Inno3D website yesterday. Prolific tech Twitterer @Komachi spotted the entries and shared them with followers.
Rather than the highlighted Inno3D webpage being anything as significant as a product or documentation page, it was just a T&Cs page - for promotions on Nvidia GPUs right now. The firm is giving away various games with GPU purchases; Control and Wolfenstein: Youngblood with RTX graphics cards, exclusive PUBG codes with GTX 16 GPUs, plus Call of Duty: Modern Warfare with RTX 2060 or better cards. The promos appear to be attractive for RTX 20 series buyers but the spoils for lower end GPU buyers are rather meagre.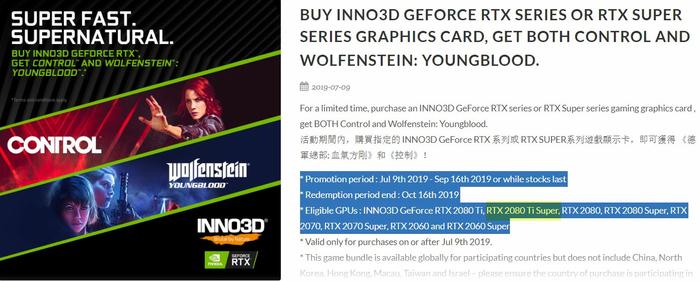 click to zoom image
Within its T&Cs pages for the above mentioned promos, Inno3D listed the Inno3D GeForce RTX 2080 Ti Super as a qualifying purchase for the RTX 20 giveaways and bundles. Sites like Tom's Hardware and numerous foreign language tech sites reported upon the @Komachi sourced story and took screen-grabs of the listing. However, this morning, any mention of the Inno3D GeForce RTX 2080 Ti Super has been expunged from these T&Cs.
Nvidia executives have previously asserted that there will be no GeForce RTX 2080 Ti Super, and indeed it doesn't seem like a proper fit in the line of graphics cards from the green team as they stand. TweakTown's Anthony Garreffa took to Twitter in the wake of the @Komachi discovery to remind enthusiasts that he asked Nvidia this very question at the Super launch and the answer was a definitive no.
For actual Inno3D GeForce RTX 20 goodness, please take a look through the full HEXUS review of the Inno3D GeForce RTX 2080 Super iChiLL Black, published just yesterday.