Designed with gamers in mind
The Fatal1ty X800 XL 512MB is, as we've come to expect from all Falat1ty branded ABIT products, designed with gamers in mind. So what tricks have ABIT used on this card?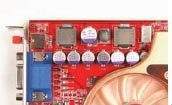 Custom power circuit


ABIT have designed custom power circuitry with the specific intention of providing the best overclocking stability... no reference power circuit here!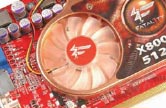 Single-slot cooling


An essential prerequisite to overclocking is, of course, cooling. The Fatal1ty X800 XL 512MB has a single slot cooler design with a copper base to quickly conduct heat away from the GPU and a 6cm fan to dissipate the heat.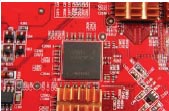 512MB DDR3


512MB of uber-fast 1.6ns DDR3 RAM sits on the PCB of this card, providing ample memory for high-res gaming.



Oooh... lights!


Peer through the window of your Fatal1ty X800 XL powered gaming rig and you'll see ultra bright red LEDs for a "stunning futuristic look".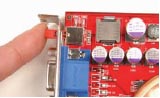 Overclock at the click of a button


Here's something innovative. One click of the switch on the back of this card will bump up the core and memory clocks along with the supplied voltages, giving you an instant overclock. Normal mode runs at 400/500MHz, while clicking into "XTurbo mode" gives you 420/550MHz core/mem. Possibly the easiest overclock ever?



vGuru


Think uGuru, but for your graphic scard. The vGuru system allows real-time clock core/mem clock adjustments along with smart fan control and hardware monitoring.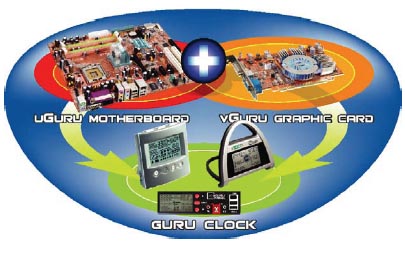 Combine vGuru and uGuru with the Guru Clock


We first brought you a look at ABIT's Guru Clock while we were at Computex 2005. The Guru Clock system can combine information from an ABIT uGuru supported motherboard and a vGuru VGA card and display all vital hardware info. ABIT are really pushing Guru technology as an ideal way of monitoring and managing hardware.

So, what do all these features amount to? Let's find out!