Since the release of the Nvidia GeForce GTX 1650 I have seen lots of folk on forums, social media and the likes of YouTube asking when an LP (Low Profile) version of this graphics cards would arrive.
AiBs can make GTX 1650 graphics cards without the need for additional power connectors, getting all the juice they need from the PCI slot. This makes them good for dropping in some old systems with proprietary PSUs which might not offer extra 6- or 8-pin connectors, for example. Another hurdle that such systems might face is simply having the physical capacity for a graphics card, which is where the LP form factor can make a difference.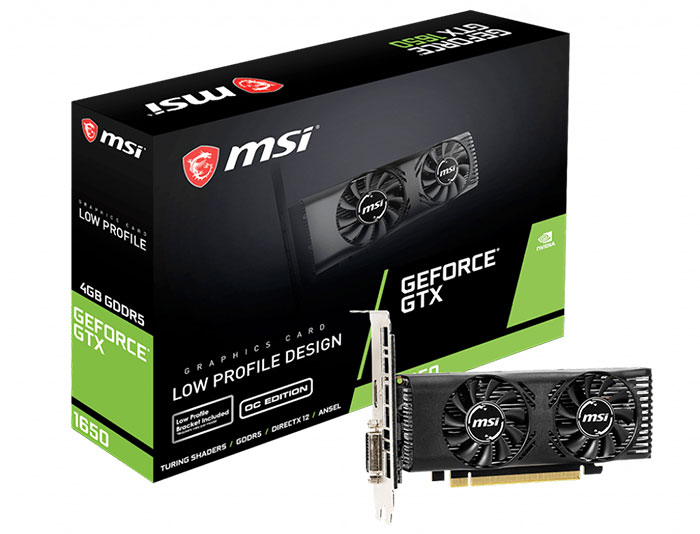 HEXUS has published multiple reviews of GeForce GTX 1650 graphics cards, like this one from EGVA, a compact ITX version from MSI and an OC model from Palit. Additionally, HEXUS shared a feature comparing the GeForce GTX XX50 generations; in which the editor looked closely at the GeForce GTX 1650 vs GTX 1050 vs GTX 950. So there is plenty of material laying down what to expect from such a card.
MSI has just revealed two new GeForce GTX 1650 4GT LP graphics cards, the MSI GeForce GTX 1650 4GT LP and the GTX 1650 4GT LP OC. You can find them compared against the previous LP champ, the MSI GTX 1050 Ti 4GT LP, here. The new MSI LP cards are very much the same but the 'OC' suffixed one has a higher core clock boost speed. You are looking at a boost speed of 1695MHz on the OC card, and 1665MHz on the regular card (same as Nvidia reference spec). As a reminder, the MSI GeForce GTX 1650 Aero ITX OC in the HEXUS tests, came with reference clocks but was found to be stable at 1940MHz across all benchmarks (no external power plug).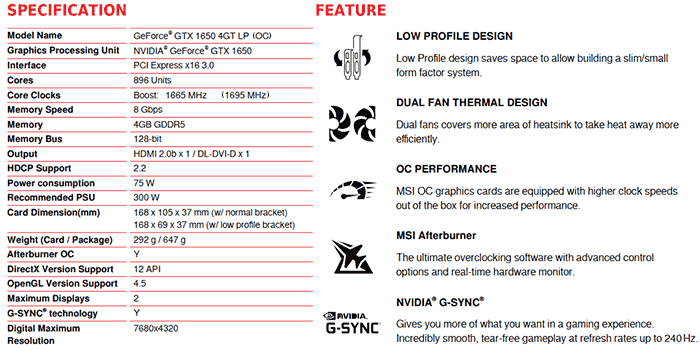 At the time of writing I don't have any pricing or availability details.