MSI was showing off its GeForce RTX 2080 Ti Lightning 10th Anniversary Edition graphics card last week at Computex last week but it didn't have the product pages with specifications ready when I checked, instead we just had some nice pictures and a piece of PR fluff. Now the Taiwanese PCs, accessories and components maker has put that right and you can head on over to the official product pages, check out specifications, a data sheet, and even a gallery too.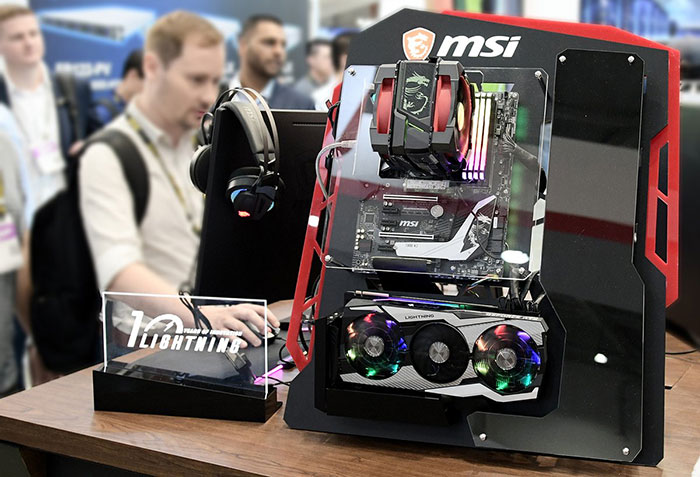 MSI hopes to build upon the Lightning heritage with the new 10th Anniversary Edition, based around the GeForce RTX 2080 Ti - and using a specially binned TU102 die. It has listened to feedback to refine the card's PCB layout, component choices, and implement extreme OC features. This latest incarnation of the range adds to the best in available performance and cooling technology with its aesthetics featuring improved premium RGB lighting, an OLED display, and choice of platinum or pink shroud accents.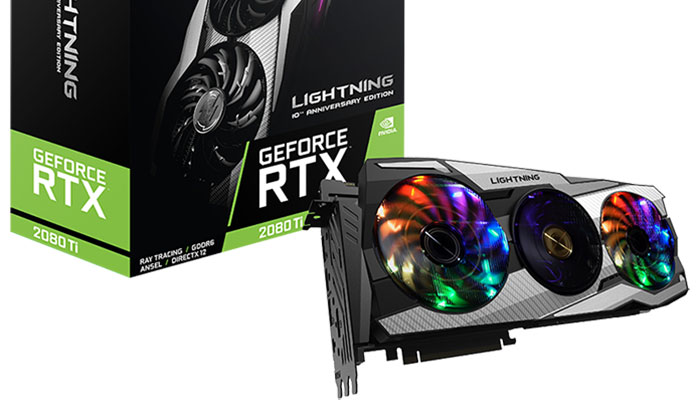 The new lightning is equipped with 3x 8-pin power connectors for any OC athletics you might have in mind and you are recommended to pair it with at least a 650W PSU.
Other key features of this 11GB GDR6 anniversary graphics card are:
GPU: Boost Clock of 1575 MHz
Memory: 11GB GDDR6 at 14Gbps
Connectors: DisplayPort x 3 / HDMI x 1 / USB Type-C x 1
TRI-FROZR Thermal Design: Using three of the award-winning TORX Fans 3.0 with Double Ball Bearings.
Heatsink: Using groundbreaking aerodynamic techniques, the heatsink is optimized for efficient heat dissipation.
Phantom of Lightning: Taking RGB to the next level which includes the fans, this feature will provide various stunning visuals effects.
Carbon Backplate: The full carbon backplate strengthens the card, but also enhances thermal conductivity using a thick heatpipe and thermal pads.
Dynamic Dashboard: Keep an eye on clocks and temps in real-time or show off your own personal animations with this customizable OLED panel through Dragon Center software.
Dragon Centre: A consolidated platform that offers all the software functionality for your MSI Gaming product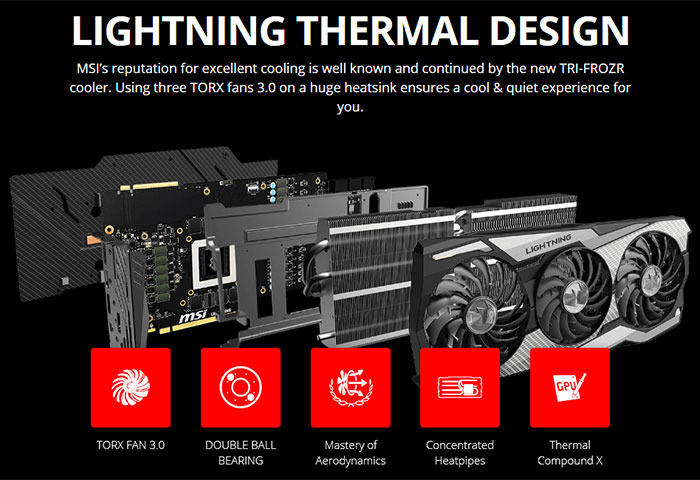 The above quoted core boost clocks are relatively sedate but as a Lightning card it won't be deployed at such speeds for long after a few tweaks in MSI Afterburner. For reference, the Nvidia GeForce RTX 2080 Ti Founders Edition is clocked at 1635 MHz (OC) out of the box.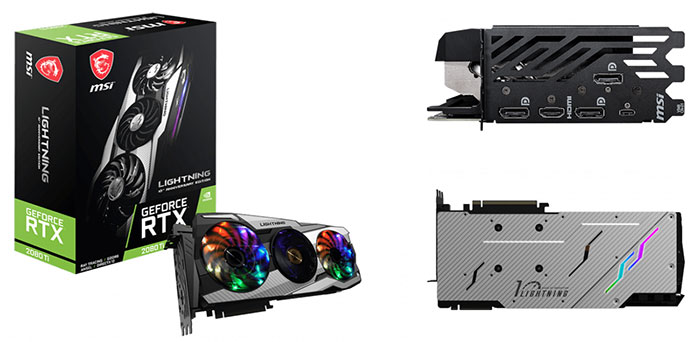 In our review of the MSI GeForce RTX 2080 Ti Lightning Z (non Anniversary Edition) in January, we managed to quickly tweak the card to run at a boost clock of 1,857MHz, and memory had no issues running at an effective 16Gbps.
Pricing for the MSI GeForce RTX 2080 Ti Lightning 10th Anniversary Edition graphics card is set to go beyond the £1300 or so that you can purchase the non-Anniversary version for currently. I don't have any information about availability at the time of writing,