Arm has taken the wraps off some impressive new technology at Computex today. The firm is showing off new CPUs, GPUs, and ML processors and has new products in all these categories. However, just ahead of Computex it spent a significant amount of time highlighting its GPU efforts, at the Arm Tech Day, and that information is now available to share.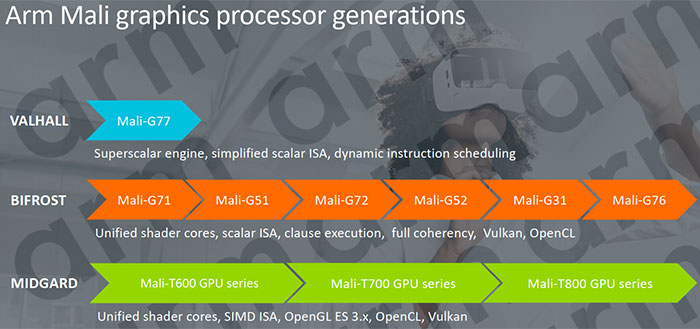 The new Arm Mali-G77 is a major update due to being the first GPU from Arm to feature the Valhall architecture. It is the successor to the flagship Mali-G76 which was the most powerful GPU built on Arm's Bifrost architecture, a GPU family established with the Mali-G71, launched in May 2016.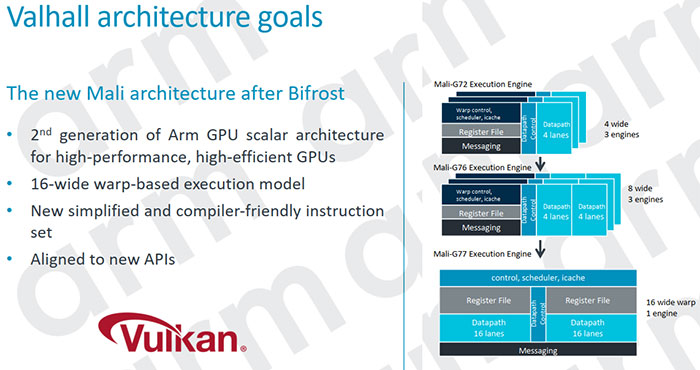 With the debut of the new Valhall architecture you will probably expect some significant improvements in performance, efficiency and so on and you probably won't be disappointed - at least with Arm's claimed figures. According to the chip designer, the new Mali-G77 CPU delivers 1.4x better performance overall for improved high-fidelity and casual gaming fun.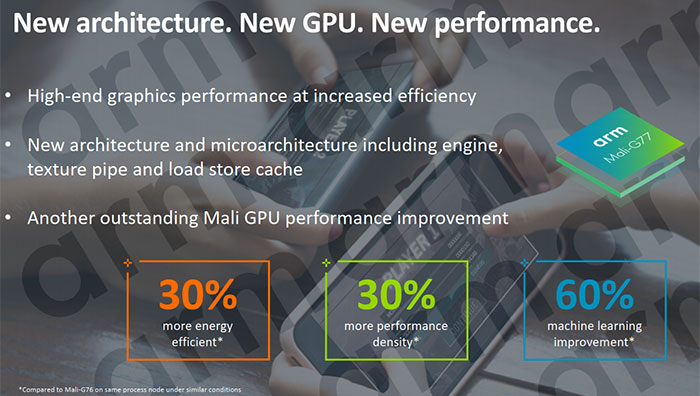 Arm's Mali-G77 wields hardware enhancements such as; a single execution engine per shader core, a quad texture mapper, and new load store caches (LSC) to achieve that up to 40 per cent overall performance. Furthermore, the architectural and tech enhancements in Valhall changes have resulted in 30 per cent better energy efficiency and 30 per cent more performance density. Another stat that Arm boasts about is that the new GPU delivers a 60 per cent improvement to machine learning performance - accelerating the type of processing increasingly leveraged by smart device makers for on-device intelligence.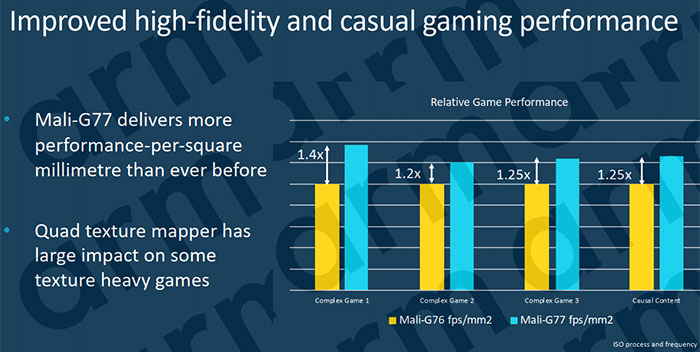 Above we have talked about comparisons with the previous gen Mali-G76, which is fair. However, if you have a phone that is only a couple of years old or so, like the Huawei Mate 10 or Honor 10 then you will be running a processor with a Mali-G72 GPU and the new Valhall part wipes the floor with this GPU - delivering refined gameplay experiences while using half the energy, and quadrupling the bilinear texels/clock.
Arm Cortex-A77 CPU and Arm Machine Learning (ML) processor
As mentioned in the intro, Arm has launched processor designs into the general purpose CPU and ML fields, as well as the new Mali-G77 GPU. The new Arm Cortex-A77 CPU is based on DynamIQ technology and can capably deliver advanced ML and AR/VR experiences thanks to its 20 per cent IPC performance improvement over Cortex-A76 devices. Arm reminds us that thanks to both hardware and software optimisations users will have benefitted by 35x ML performance improvements over the past two generations.
If you need even better ML performance in your device, Arm introduced Project Trillium last year, and it is a heterogeneous ML compute platform which includes the Arm ML processor and open-source Arm NN software framework. Arm has now made an improved ML processor and it can now deliver; energy efficiency improved by more than 2x up to 5 TOPs/W, up to 3x better memory compression, and scaling up to 8-cores for up to 32 TOPs.
Arm plans to optimise its processor building blocks to work together with a common toolchain and thus make it simple for clients to build complete solutions. It hopes that the new premium IPs (Mali-G77 GPU, Cortex-A77 CPU, and Arm ML processor), alongside the recently announced Mali-D77 display processor, will help "unlock the next generation of immersive experiences".