Inno3D, one of NVIDIA's AIB (add-in board) partners, has attempted to appeal to the enthusiast with its iChiLL-branded line of graphics cards that use better cooling than the plethora of reference models plying the retail shelves.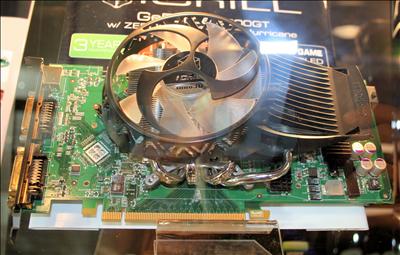 The cooling on the newest iChiLL card is provided by ZEROtherm's HC92 and it's the first time HEXUS has see a ZEROtherm heatsink used since the inception of the iChiLL series.

The iChiLL line is further differentiated with each SKU being overclocked out-of-the-box - the latest beneficiary of an iChiLL makeover is the recently-released GeForce 9600 GT.

The Inno3D iChiLL Hurricane Series - great name, huh? - uses the extra-large ZEROtherm heat-pipe-laden heatsink-and-fan combination on top of the GeForce 8800 GT and 9600 GT SKUs.

The beastly cooling will take up the slot adjacent to the x16 PCIe's in your motherboard but the appendage doesn't interfere with the SLI connector - you can still add a second to your system.

Shipping at 750/1,625/1,940 for the engine/shader/memory on a GeForce 9600 GT and 700/1,500/2,000 clocks for the GeForce 8800 GT, the Hurricane represents decent pre-overclocking.

The cooler is reckoned to be quiet, too, and we'll see just how well the GeForce 9600 GT performs as we put it through out labs in a couple of weeks' time.

Read more here.