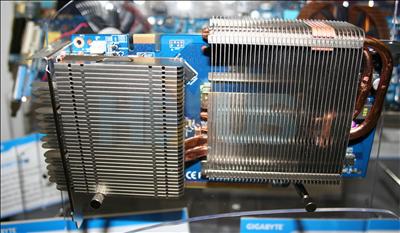 Gigabyte is jumping on the passively-cooled GeForce 9600 GT 512MiB bandwagon with its Multi-Core thermal technology cooler, housing four heat-pipes, each said to ferry away around 30W of GPU-absorbed heat.

And it's so confident of the cooling ability of the dual-slot cooler that the card is pre-overclocked to 700MHz core - just make sure you have adequate airflow in your chassis.

The product manager went to great lengths to explain that all heat-pipe-cooled cards are not made equal and that the design of the Multi-Core is such that 99 per cent of the GPU's heat is carried away to the fins.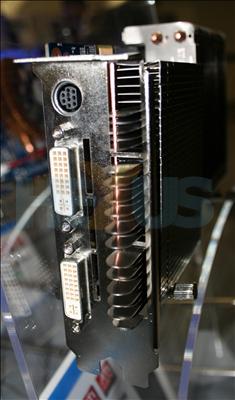 Laden with aluminium and a generous amount of copper around the GPU, the card will cost around £25 more than a stock-clocked SKU, so around £145.