It's now less than a week away to the CES 2017, which runs from Thursday 5th to Sunday 8th January. Nvidia fans won't even have to wait that long to hear about 'something big' from the green team however, as Jen-Hsun Huang will take the stage to give a preshow keynote address on Wednesday 4th January (6.30pm PST - that's Thursday 2.30am GMT). Eager green beavers who aren't attending the consumer electronics event in Las Vegas will be able to tune into a live streamed presentation of Mr Huang pacing the stage in his leather jacket.
The official Nvidia line about what will be revealed and discussed at the pre CES keynote is "the industry's most exciting tech unveilings in artificial intelligence (AI), self-driving cars, and gaming". Scroll down that page further and you will see Nvidia will have a presence at the Automotive Innovation outdoor area. Furthermore, it will have a representative on the Artificial Intelligence: Real Business Opportunities discussion panel.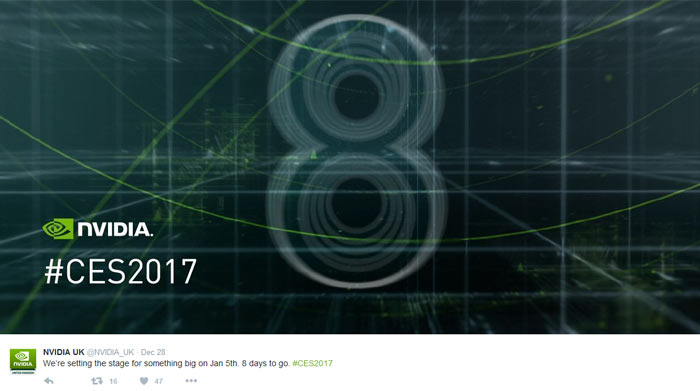 In other less formal communications Nvidia has been ramping up expectations for CES 2017. A day or two ago Nvidia UK Tweeted the above. "We're setting the stage for something big on Jan 5th. 8 days to go. #CES2017". This is the stage after the pre-CES keynote. Basically there are no clues I can see in this Tweet, so it's not such an effective tease.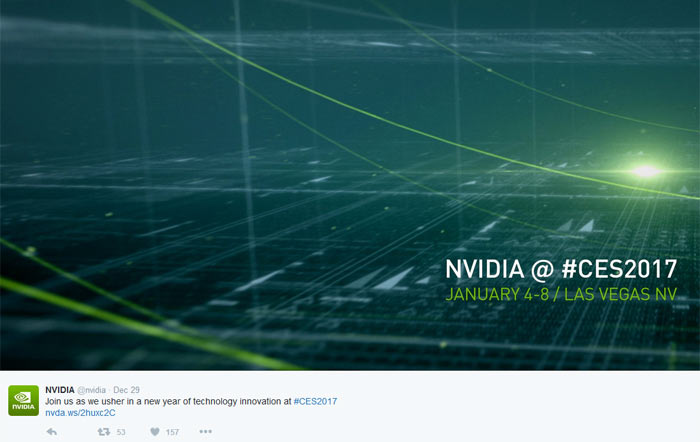 More recently Nvidia's global Twitter account suggested we pay attention to Nvidia as it ushers in "a new year of technology innovation at #CES2017". However the juiciest Nvidia CES worm so far has probably come from the Mass Effect Twitter account. As you can see below, some further revelations concerning the latest in this franchise on PC is due in the Nvidia CES keynote.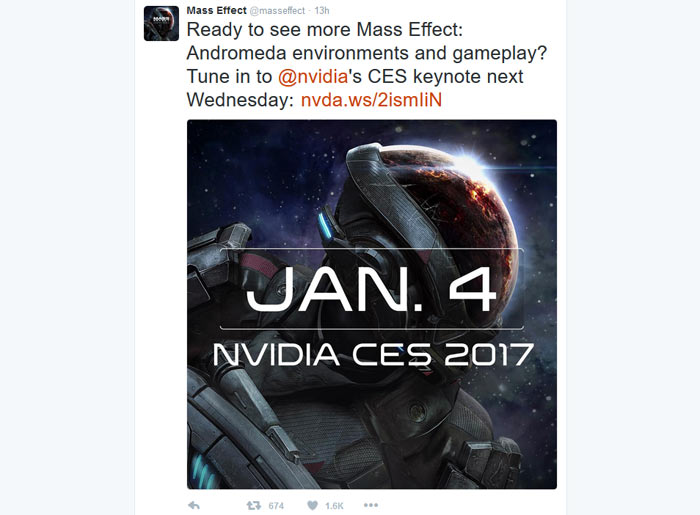 In terms of Nvidia PC gaming hardware, CES would also perhaps be a good time to reveal (or even launch) the highly anticipated GeForce GTX 1080 Ti graphics card.