It's hard not to be impressed by the work being done at ARM. The British company manages to fly under most consumers' radar, yet chances are, if you use electricity, you probably own at least one device powered by ARM technology.
The company's Cortex-A and Cortex-M Series processors are best-known for their widespread employment in mobile devices ranging from smartphones to wearables, but the firm is today turning its attention to the less conspicuous Cortex-R Series with a new chip dubbed Cortex-R8.
Designed for applications where response time is increasingly important, Cortex-R8 is described as the industry's most powerful real-time processor, delivering a 2x performance advantage over the previous champ, ARM's own Cortex-R7 from 2011.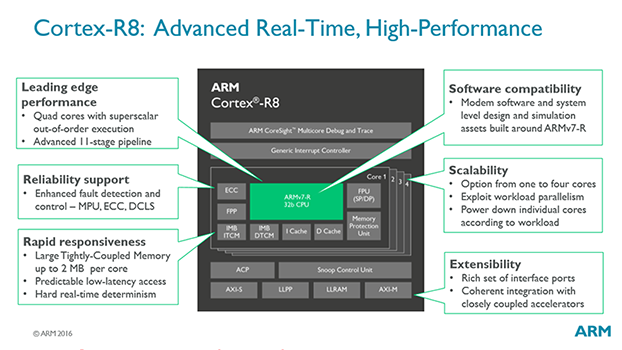 The 2016 upgrade has a few tricks up its sleeves, the most obvious of which is the ability to scale from single- to quad-core configurations, providing a significant advantage over the dual-core Cortex R7. Introduced on a 28nm HPM process and clocked at up to 1.5GHz, Cortex-R8 continues to serve as a 32-bit solution based on the ARMv7-R architecture, and shares many commonalties with its predecessor. These include an 11-stage, out-of-order pipeline, a memory-protection unit and, enlarged for Cortex-R8, on-chip TCM (Tightly-Coupled Memory) weighing in at up to 2MB per core.
Power efficiency and ARM tend to go hand-in-hand, so it's no surprise that each of the four cores is able to power down independently depending on usage scenario. But for those of you who are new to the Cortex-R Series, it begs the question: with Cortex-A and Cortex-M tying up so much of the market, which devices are being targeted by Cortex-R8?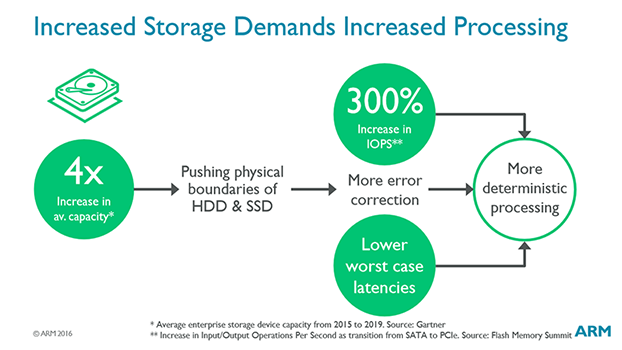 One market is storage, where ARM is looking to further cement its presence. The company claims that all major HDD and SSD manufacturers currently employ the ARM architecture, and estimates that 1.4bn Cortex-R Series processors have already shipped in storage products.
With today's storage devices seeing gains in capacity and sizeable leaps in input/output operations per second, the case for Cortex-R8 becomes clear, as the chip's error-correction capabilities and deterministic interrupt response bode well for upcoming storage controllers. Don't be surprised if your next SSD is underpinned with British technology.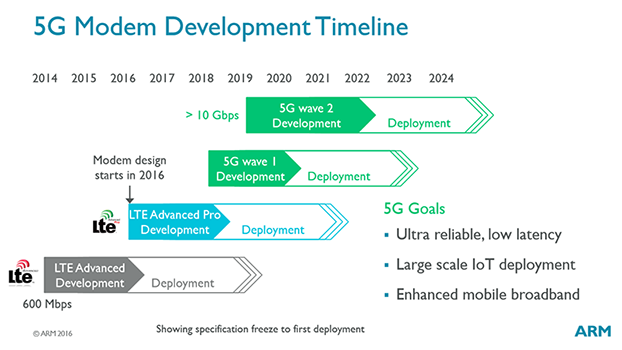 Another high-profile use case, albeit further down the line, is the development of 5G modems. As mobile broadband continues to accelerate in terms of performance and complexity, the strain on in-device modems is magnified significantly. ARM believes the quad-core, low-latency Cortex-R8 is ideally positioned to cope with such demands and is championing the processor as "instrumental in the creation of 5G modems."
Commenting on the launch, James McNiven, general manager of ARM's CPU group, stated that "5G will revolutionize mobile communications as it delivers the ability to significantly increase data rates, offering a far better mobile experience. It will form the communications heart of future smartphones, tablets, connected cars and IoT."
Though 5G modems are a couple of years away, Cortex-R8 is available for licensing as of now and silicon is expected to roll off of production lines later this year.