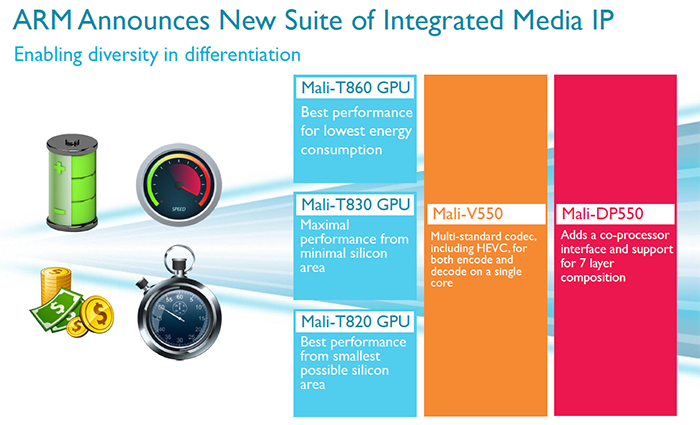 ARM is boosting overall system-on-chip (SoC) efficiency by introducing a new suite of integrated media intellectual property (IP). The graphics, video and display blocks typically found in a number of smartphones and tablets are being overhauled to offer better performance per watt and newer hardware-based features. It is expected that some of ARM's partners will roll out SoCs featuring the new Mali technology next year.
Graphics
Building on the foundations laid down by the Mali-T7x0 family of GPUs announced a year ago and now shipping in select MediaTek and Rockchip SoCs as well inside the Exynos 7 Octa SoC used to drive the Samsung Galaxy Note 4, ARM is improving it incrementally with the Mali-T860 processor.
Basic architecture remains the same for both the headline Mali-T860 and Mali-T760 products, which means baked-in support for OpenGLES 3.1 and DirectX11.1. Remaining scalable in terms of cores and cache counts - partners choose what best fits their price/performance/area needs when designing SoCs - the Mali-T860 also provides 10-bit input and output for the YUV colour space.
The more mainstream Mali-T820 and Mali-T830 GPUs are also closely related to incumbent Mali-T720. Compared to the predecessor ARM uses half as many shading cores on both new products but doubles the arithmetic capability of the Mali-T830 by using two ALUs per core - Mali-T720, like the Mali-T820, has one per core.
All new GPUs continue to carry a collection of memory bandwidth-saving technologies such as Adaptive Scalable Texture Compression (ASTC) and ARM Frame Buffer Compression (AFBC), as well.
Video and Display
In concert with the new GPUs ARM is also updating the video and display blocks. The new Mali-DP550 block's main purpose is to enable power-efficient, secure transmission of protected video from source, through the SoC, and to the display. The bulk of this technology has been harvested in the acquisition of Cadence's PANTA cores last year.
There are a couple of key differences between generations of display blocks, however. Mali-DP550 now supports add-in coprocessors for specialised display tasks, enabling hardware assistance in select cases where implementing them in general display silicon doesn't make sense for the bulk of customers. Mali-DP550 supports more composition layers, too, increasing from three to seven.
On the video side of things the big news is that the Mali-V550 adds in hardware-based assistance for both encode and decode of the nascent H.265 (HEVC) standard. ARM tends to add hardware support when there's enough industry inertia for it to make sense, so while competitors have experimented with the bandwidth-saving H.265 video compression technology in both software and hardware to date, ARM believes that mid-to-late 2015 is an opportune time to put it into SoCs that, particularly in the form of tablets, will be driving H.265 video.
The trio of Mali updates modernise the already-robust video and graphics offerings from ARM. Expect devices featuring the new technology to be a little faster, more power efficient and better able to handle high-resolution video and display demands.