With AMD's first Fusion parts now starting to pop-up in netbooks, ultraportables and low-power desktops, our minds are turning towards the company's second wave of APUs. The Llano processors will be aimed at the mainstream notebook, all-in-one and desktop markets and DonanimHaber claims to have gotten hold of some of the first performance numbers for the chips.
Apparently, the dual-core Llano parts will be slightly slower than the 3.0GHz Athlon II X2 250 and Intel's 2.93GHz Pentium E6500. However, the integrated 'Winterpeak' graphics core inside the 32nm Fusion chip massively outperforms the Radeon HD 4290 and G41 chipsets used by the older processors, redeeming the processor somewhat.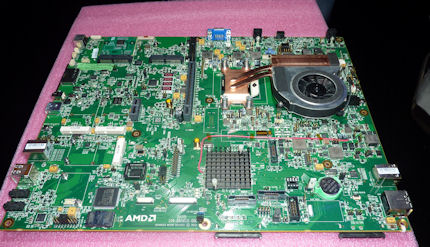 As for the quad-core Llano processors, it looks like they'll perform somewhere between a quad-core Athlon II X4 640 and a dual-core Intel Core i3 540. The GPU is said to perform about on par with a discrete Radeon HD 5500 or 5600-series graphics card. Unfortunately, there were no comparisons with the brand-new Sandy Bridge CPUs that Llano will be wrestling for market share.
Apparently the TDPs for the chips will fall somewhere between 65W and 95W, meaning that these are definitely the desktop versions of the Llano processors.
So what does all of this mean? If these numbers are accurate, the CPU portion of the chip will be as fast or a little slower than its contemporaries given a certain TDP - despite sharing the thermal envelope with the GPU. Although this is a little disappointing, it's exactly the sort of relative performance that we've been told to expect from the Ontario and Zacate processors and falls in-line with the general message that AMD is pushing for Fusion.
However, graphics performance appears to be a massive step up from other integrated GPUs, and the manufacturer will be banking on this fact to help it gain traction as the graphics core becomes more integral to general purpose computing.
As well as taking all of this with a grain of salt, remember that Llano isn't expected to launch until the Q3 2011, so AMD still has plenty of time to do some more tweaking before launch.