Intel's next-generation Sandy Bridge processors aren't supposed to arrive until the tail end of 2010 or - more likely - the start of next year. However, it looks like a retailer here in the UK has published a listing a little early and while they aren't available to buy, we do have some idea of the pricing.
The processor that has appeared is the Core i5 2500k and retail site More Computers has it listed for £170.63. The page doesn't divulge too many details, though it does list the chip as running at 3.3GHz and having a 6MB L3 cache.
This actually lines-up perfectly with earlier details suggesting that the quad-core CPU would have a 3.7GHz Turbo Boost, an 850MHz graphics-core that will boost up to 1,100MHz and a 95W TDP. Unfortunately, this model is expected to ship without support for Hyper-Threading.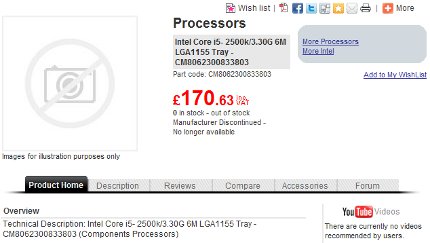 The only other thing that we know is that the K-series chips will, once again, be multiplier unlocked - a very handy feature given that the Sandy Bridge CPUs are expected to overclock very well, based on Intel's early demos.
All of this means that we have a speedy quad-core CPU with an unlocked multiplier and a lot of headroom that could potentially ship for around £170. For comparison, Intel's current-gen Core i5 655K is shipping now for around the same price. Though it's clocked at a similar speed, has an unlocked multiplier and supports Hyper-Threading, it only has two physical cores. We already know that, clock-for-clock, Sandy Bridge will outperform Clarkdale chips by around 20 per cent, meaning that the new chip should bring an awful lot more performance for the same price.
If this sort of pricing turns out to be accurate, Intel's latest and greatest will be positioned fairly aggressively and are likely to provide an awful lot of bang for the buck.