This is the second Computex since GlobalFoundries' inception in early 2009. At a press conference in Taipei, CEO Douglas Grose was joined by CEO of ATIC, GlobalFoundries' investor, to discuss the company's future and current successes.
Proclaiming a "new GlobalFoundries" following the acquisition of Chartered, Douglas Grose reflected upon Q1 2010, observing a recovery in the industry and an increase in custom. 0.13 and 0.18 micron process technology remains the most in-demand, although there is growing interest in 65nm and beyond.
Looking to increase capacity in both the US and Europe, the company is extending both Fab 8 in Malta, New York, and at Dresden's Fab 1. Fab 8 will see a 40% capacity expansion, bringing its output to 60,000 wafers a month. Ground breaks on the expansion next month and completion is due in 2013. The focus at the facility is on 32/28nm technologies and below.
The upsizing at the Dresden fab will lead to a 80,000 wafer facility, a so-called "gigafab" according to Grose. Fab 8's expansion will cater to 45nm process tech upon completion in 2011, shrinking down to 28nm in the years to follow.
Grose went on to detail GlobalFoundries use of high-K metal gate (HKMG) transistor technology to help its customers develop faster, cooler chips with less leakage, a technology we first covered at IDF a year or so ago.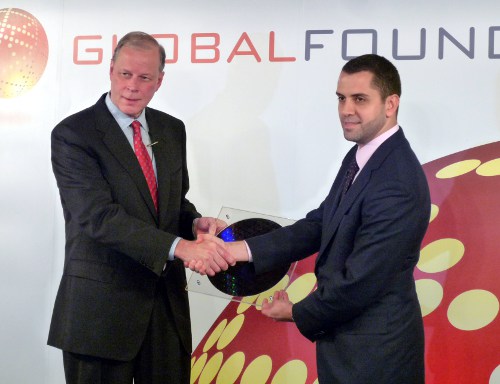 Left to right: Douglas Grose and Ibrahim Ajami
The company is also a leader in lithography techniques, Gross said, and had been able to ramp up its 45nm lithography methods for complex large-area designs including AMD's Istanbul multi-core 45nm products.
GlobalFoundries' future success depends on its ability to keep up with shrinking process technology and new techniques for lithography and leakage reduction, as well as providing sufficient capacity to be a customer-centric business able offer a high speed of delivery to its customers.
Significant long-term investments are planned by ATIC including an injection into the Middle East that will see GlobalFoundries at the heart of an envisaged semiconductor cluster in Abu Dhabi. Get more on ATIC's plans in our coverage of Ibrahim Ajami's presentation.