The battleground for the high-end desktop space in 2010 will be comprised of PCs equipped with six-core chips.

Going by recent history, AMD will opt for a value-orientated six-core model that currently goes by the codename of Thuban. Confirmed at AMD's Analyst Day in November 2009, Thuban will be part of the Leo platform and will be based on existing Phenom II technology.

Intel will also go to bat with a six-core client chip that's currently known as Gulftown, and now a few more details have seeped out regarding Intel's finest.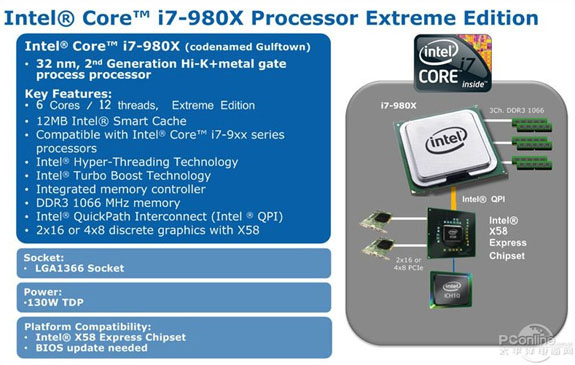 According to this Intel-published slide from PConline, the chip will be marketed as Intel Core i7-980X (no Core i9, then). The clock-speed is rumoured to be 3.06GHz, backed up by 12MB of L3 cache and, of course, Turbo Boost technology.

Aimed at users who own an X58 board and want the fastest CPU money can buy, the six-core wonder will be based on the 32nm Westmere process and feature all the usual LGA1366 goodies.

Word has it that Intel is looking to pull in the release date to March 2010, perhaps beating AMD to the hexa-core punch, but expect to pay a standard Intel $999 for the privilege of owning one, though.

ASUS has already announced a comprehensive line-up of Gulftown-supporting X58 boards, so it's just a matter of saving those pennies, folks.