Intel's Sandy Bridge Platform may be just around the corner, but that doesn't mean that the company is ready to put the Westmere architecture out to pasture. In line with rumours that we heard earlier in the year, an Austrian e-tailer has posted a listing for a new flagship Core i7 CPU.
The hexacore Core i7 990X EE will replace the 980X EE at the very pinnacle of Intel's product line. Predictably, the chip will get the benefit of a 1x multiplier increase, bringing the clock speed up to a formidable 3.46GHz.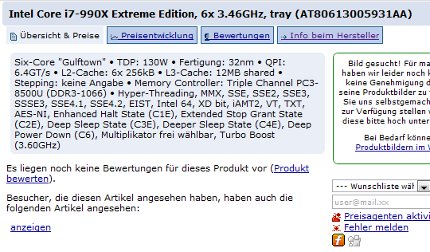 Unfortunately, the CPU will otherwise be exactly the same as the other members of the Gulftown family. This means that you can expect 12MB shared L3 cache, a 130W TDP and a maximum two-step Turbo Boost to 3.73GHz. Nonetheless, this will easily make the dodeca-thread monster the new king of the consumer desktop CPUs.
Unfortunately, the site hasn't given a price for the new part, but we can safely expect it to retail at the usual $999/£800 price point. Our only hope is that it will bring the prices of the 980X and the 970 down, though we'll probably have to settle for a line-up shuffle that will see the a multiplier-locked 980 replace the 970 at around £680.
As for a release date, if the listing is legitimate, we can probably expect the new chip to arrive in the next few weeks. With its next-gen architecture only a couple of months away, Intel will surely want to give the CPU as much time in the limelight as possible before it's eclipsed by the new Sandy Bridge hotness.