Back in February Intel announced that its next-generation microprocessor, codenamed Westmere, was being brought in ahead of schedule. Westmere can be thought of as a reasonably minor architectural upgrade to present Nehalem but on a smaller manufacturing process - 32nm vs. 45nm.

During an earnings conference call, Intel boss, Paul Otellini, disclosed that Westmere chips have been sampled to around 30 laptop and desktop PC manufacturers for testing, intimating that silicon is in a healthy state in Q2 2009.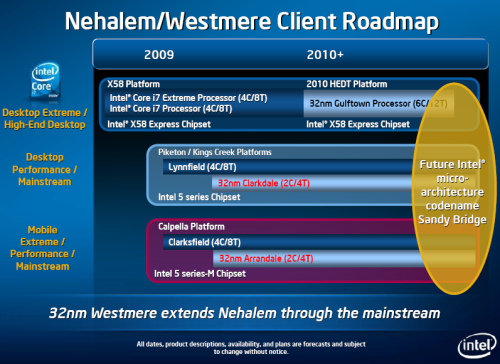 Looking back at the February roadmap, we see that the desktop version of Westmere will be known as Clarkdale, comprising of two cores with hyperthreading. The mobile variant, Arrandale, will ship with the same arrangement, but what marks out these chips from incumbent Nehalem-derived models is the presence of integrated graphics on the chip itself, sat alongside the CPU in a multi-chip module package.

The announcement of sampled Westmere silicon is a harbinger of widespread availability later on this year, we reckon, and we can expect to see the next real iteration of the mobile Centrino platform - Calpella, Centrino 3 - probably a quarter earlier than expected - now Q3 instead of Q4 2009.

What we're looking forward to is a thin-and-light notebook, weighing in at comfortably less than 2kg, powered by Westmere CPU and graphics. How will that play out against AMD and, indeed, NVIDIA's offerings?

Does Westmere's earlier-than-expected arrival pique your interest? We'd love to hear your thoughts.