VIA Technologies today announced its Nano processor family, based on the 64-bit Isaiah architecture.
Nano, the successor to VIA's ageing C7 chips, is said to offer four times the performance whilst keeping within the same power envelope.
The architecture, developed by subsidiary Centaur Technology, uses Fujitsu's 65 nanometre technology to deliver "the first 64-bit, superscalar, speculative out-of-order processors in VIA's x86 platform portfolio". The new architecture provides 1MiB of L2 cache, clock speeds of up to 1.8GHz and a front-side bus starting at 800MHz.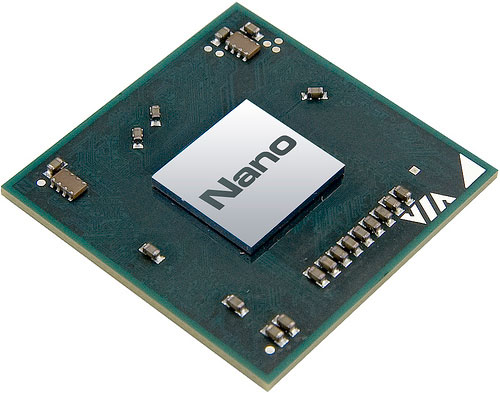 VIA states that the 21x21mm chip will "revitalise traditional desktop and notebook PC markets, delivering truly optimised performance for the most demanding computing, entertainment and connectivity applications, including Blu-ray Disc, HD video playback and the latest PC games, such as Crysis."
Yes, you read that right, VIA's saying this little beast will run Crysis - though, we doubt it'll do it well. Not only that, but when asked how Nano stacks up against Intel's Atom, Glenn Henry, president of Centaur Technology, said: "The Nano is definitely faster, I said that originally and I'm very sure of that now."
The Nano chips now available to OEMs come in two SKUs; the Nano L-Series for the mainstream desktop or mobile PCs, and the U-Series for ultra-mobile devices. The current line-up, is as follows:
Product & Model Name

Clock Speed

VIA V4 Bus

Maximum Power
(TDP Max)

VIA Nano L2100 processor

1.8GHz

800MHz

25W

VIA Nano L2200 processor

1.6GHz

800MHz

17W

VIA Nano U2400 processor

1.3+GHz

800MHz

8W

VIA Nano U2500 processor

1.2GHz

800MHz

6.8W

VIA Nano U2300 processor

1.0GHz

800MHz

5W
To help ease the transition, VIA has ensured pin compatibility with its existing C7 chips and OEMs are expected to ship Nano-based systems in Q3.
Pricing hasn't yet been detailed, but VIA is quick to point out that its Nano chips aren't restricted, unlike Intel's Atom. At present, Intel states that manufacturers cannot use its Atom processors in portable systems with a screen size of over 10 inches. Intel hopes that such a restriction will prevent Atom from infringing on its Core 2 mobile market.
VIA, on the other hand, has no such restrictions. Expect, therefore, to see Nano-based laptops with screens larger than those found on Atom-based systems.
Then there's the matter of the desktop market. Intel, armed with Atom (Diamondville) processors, will now be competing against VIA's Nano L-Series. This time around, however, VIA finds itself in a useful partnership with NVIDIA, and we could see low-cost PCs with a VIA CPU and NVIDIA GPU by the end of the year.
VIA's Nano processor family isn't here to make up the numbers, it's here to take its slice of the pie. Though, AMD's forthcoming mobile platform, Puma, might have something to say about that. Either way, the big two; Intel and AMD, could become the big three, if VIA's Nano delivers on promises.
Nano's key features, as detailed by VIA, are as follows:
64-bit Superscalar Speculative Out-Of-Order MicroArchitecture: Supports a full 64-bit instruction set and provides for macro-fusion and micro-fusion functionality, and sophisticated branch prediction for greater processor efficiency and performance


High-Performance Computation and Media Processing: The high-speed, low power VIA V4 Front Side Bus starting at 800MHz, plus a high floating point unit, support for new SSE instructions, and two 64KB L1 caches and 1MB exclusive L2 cache with 16-way associativity gives a big boost to multimedia performance


Advanced Power and Thermal Management: Aggressive management of active power includes support for the new "C6" power state, Adaptive PowerSaver™ Technology, new circuit techniques and mechanisms for managing the die temperature, reducing power draw and improving thermal management


Scalable Upgrade to VIA C7™ Processor: Pin-to-pin compatibility with current VIA C7 processors enables a smooth transition for OEMs and mainboard vendors, enabling them to offer a wider range of products for different markets with a single board or system design


Greener Technology: In addition to full compliance with RoHS and WEEE regulations, product manufacturing will be halogen-free and lead-free at launch, helping to promote a cleaner environment and more sustainable computing


Enhanced VIA PadLock™ Security Engine: Industry-leading on-die hardware cryptographic acceleration and security features, including dual quantum random number generators, an AES Encryption Engine, NX-bit, and SHA-1 and SHA-256 hashing
Official press release: VIA Launches VIA Nano Processor Family
Official product page: http://www.via.com.tw/en/products/processors/nano/