An unannounced Ryzen 3000 series desktop processor has been spotted by prolific Twitter-based chip detective Tum Apisak. From a post a few hours ago, and an update just one hour ago, we get to see an outline of an interesting new processor from AMD - which is the first Ryzen 3000 series desktop processor without SMT.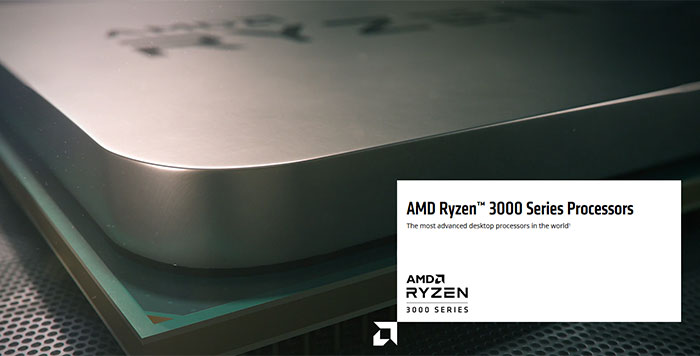 According to Tum, the AMD Ryzen 5 3500 processor has six cores but no SMT - thus it can be described as a 6C/6T CPU. The Twitter leakster's data shows that the AMD Ryzen 5 3500 runs at base / boost of 3.6 /4.1GHz. This is similar to its nearest known Zen 2 neighbour, the Ryzen 5 3600 with 6C/12T and a base/boost of 3.6/4.2GHz (65W). For reference, HEXUS recently reviewed the AMD Ryzen 5 3600X.

Just an hour or so ago Tum shared a finding that the AMD Ryzen 5 3500 achieves a 'Physics Score' of 12,8XX. It isn't clear which benchmark this is from, so hopefully more updates and perhaps screenshots will follow. As a possible comparison I have seen Tum list 'CPU physics scores' previously, and they appear to be from 3DMark Fire Strike. If this is the same test then the Ryzen 5 3600 scores between 19,000 and 19,900 - quite a lot better than the purported Ryzen 5 3500.
Finally, it is important to avoid confusion between this unannounced processor and the Zen+ CPU core based AMD Ryzen 5 3500U APU.
Last week Tum Apisak revealed what he claimed to be another unannounced AMD Ryzen 3000 series desktop CPU. He said he had spotted the AMD Ryzen 9 3900, a close relation to the 12C/24T Ryzen 9 3900X, but characterized by a low TDP of 65W. The base/boost clocks of the Ryzen 9 3900 were said to be 3.1/4.2GHz but might boost as high as 4.3GHz. For comparison the Ryzen 9 3900X offers a base/boost of 3.8/4.6GHz and a TDP of 105W.
Please remember that while the above leaks might be interesting, and the source has a great track record, the data needs to be taken with a pinch of salt for now.