If you look closely at the pictures below of DFI's forthcoming P35, X38 and RD790 motherboards, you'll notice a common theme.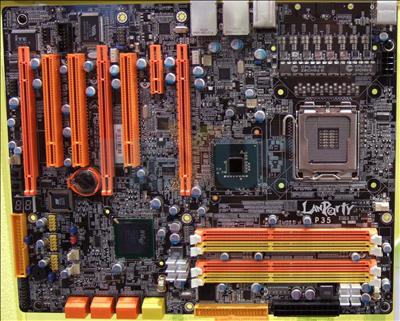 P35-T3R, Intel P35 + ICH9R, DFI Bernstein 8-CH theater-level audio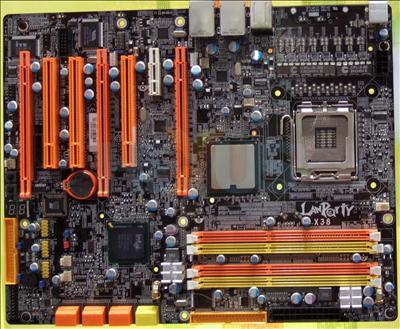 X38-T3R, Intel X38 + IC9R, DFI Bernstein 8-CH theater-level audio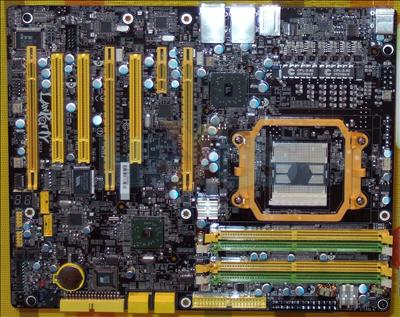 RD790-M2R, AMD RD790 + SB600, DFI Bernstein 8-CH theater-level audio


In addition to the obvious fact that the configuration of the expansion and memory slots is the same across the boards, there's also a large area left free at the back where the Karajan audio module would typically reside.

But this area is no longer used for audio and, instead, will form part of DFI's new patent-pending heat-pipe cooling solution.

Due to the fact that the patent hasn't been approved, we weren't allowed to take any photos. But we were allowed to view an engineering sample of a motherboard with a mechanical sample of the solution fitted.

The solution that the company is planning should result in much cooler temperatures on the northbridge and southbridge, the VRMs and other components as well - though DFI itself hasn't yet got complete test results that will determine whether or not this feature becomes a reality.

The P35-T2R(DDR2) + P35-T3R(DDR3) should be available from August, while the X38-T2R + X38-T3R are scheduled for September. The RD790-M2R is expected October at the soonest.