Our massive LGA775 cooler mega test, featured here, found that ever more heatsink-makers are opting for increased size as a means of boosting air-cooled performance.

A larger surface area inevitably leads to more dissipation potential - and that's also why larger, typically 120mm, fans are becoming pervasive at the top-end of the aftermarket cooler sector.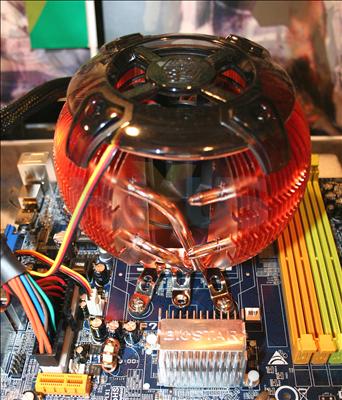 The soon-to-be-introduced Cooler Master Sphere bucks the trend somewhat.

[advert]It uses a blower-type (Vortex) fan to provide '360-degree' cooling around the heatsink's fins and quad heatpipes.

The Sphere - named so for obvious reasons - also features an all-copper base and a blue LED. It'll fit LGA775/AM2/S940/939/754 motherboards and should ship in the next month or soon after. Expect it to be priced at the low end of the market.

We'll be looking to see how it performs against some larger competition and will add its results to our roundup.