PC components specialist Silverstone has launched a pair of new liquid coolers, the TD02-E and TD03-E. For some reason the firm describes these new Tundra Series products, in its email to HEXUS, as its first all-in-one liquid coolers, which they aren't. The pair of new coolers share identical specifications to the non-e-suffixed versions launched nearly two years ago (dimensions, fans, RPMs, airflow, noise, compatibility etc) but look like they offer updated construction, including fluorinated ethylene propylene tubing material, and compatibility.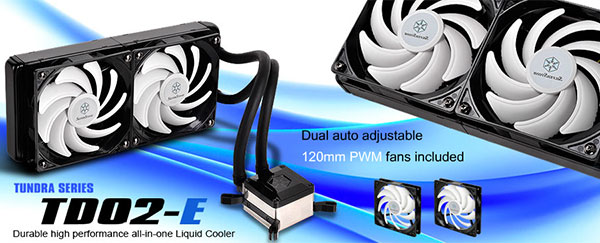 Both the double-length TD02-E and compact TD03-E cool via dual auto-adjustable 120mm PWM fans. Silverstone says that its new liquid coolers offer a "unique alloy water-block constructed with copper base and aluminium body for better durability compared to plastic-built competition". A screwless construction also contributes to the block's "excellent cooling performance". The patented Silverstone radiator design is claimed to offer "increased heat transfer efficiency by up to 40 per cent over traditional radiators," thanks to its air cooler-like brazing fins.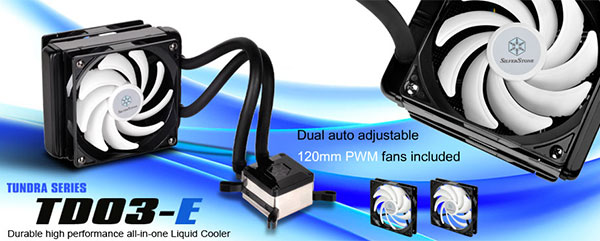 When you receive your TD02-E or TD03-E it is factory filled, sealed and assembled for easy deployment in your system. Installation is facilitated by the easy to use aluminium clips and a steel backplate. Compatibility includes Intel Socket LGA775 / 1150 / 1155 / 1156 / 1366 / 2011 / 2011-v3 and AMD Socket AM2 / AM3 / FM1 / FM2.
Silverstone has set the pricing for the TD02-E or TD03-E models at US$100.21 and US$87.81 (plus applicable sales tax) respectively. The firm informs us that the coolers will begin to become available from tomorrow, from your usual Silverstone distributor.