Noctua has today announced three new premium CPU coolers. The NH-U9S, NH-D9L are headed to retail as replacements for the "popular" NH-U9B SE2 and the NH-D9DX i4 3U is targeted at Intel Xeon LGA2011 based workstations and servers. The trio of new cooler models all feature Noctua's NF-A9 PWM 92mm premium quiet fan.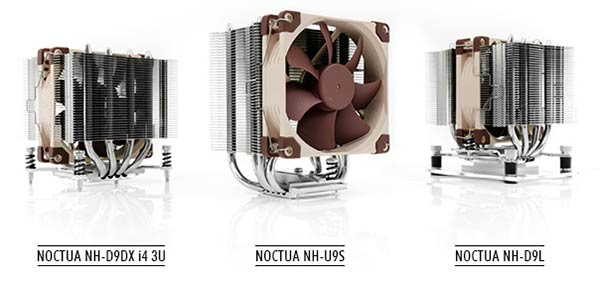 Looking at the consumer models first the NH-U9S and NH-D9L succeed the NH-U9B SE2 model. According to Noctua the new consumer system targeted SKUs feature improvements over their predecessor which include; better performance, better compatibility and PWM support.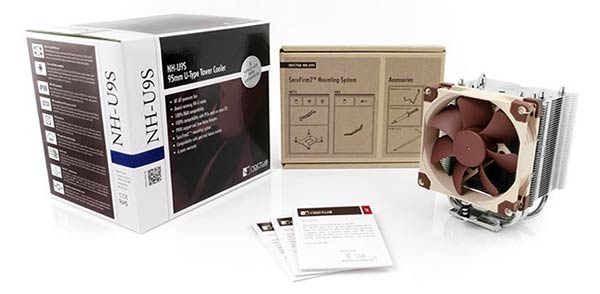 The NH-U9S design features an asymmetrical design with 5 heatpipes. Thanks to its 95mm x 95mm footprint users with all Intel and most AMD motherboards will benefit from unobstructed RAM and PCIe slots, even µATX and ITX designs.
Noctua's NH-D9L design features 4 heatpipes and is made to fit into even tighter spaces with a height 15mm lower than the NH-U9 series (110mm tall rather than 125mm tall). This makes it ideal of SFF and HTPC deployment, says Noctua. The NH-D9L has the same 95mm x 95mm footprint and will also avoid encroaching upon RAM and PCIe slots.
Turning to the Noctua NH-D9DX i4 3U, this is based upon the same heatsink as the NH-D9L but is supplied with LGA2011 mountings "for both Square ILM and Narrow ILM Xeon platforms as well as support for LGA13x6". This cooler brings the Noctua NH-D9DX i4 cooler design to 3U mounted systems. The firm says it's one of the "few available quiet cooling solutions for Narrow ILM platforms".
We are told that all three new coolers are being shipped now and will be available to buy "shortly". Suggested prices are as follows:
NH-U9S: EUR 54.90 / USD 59.90
NH-D9L: EUR 49.90 / USD 56.90
NH-D9DX i4 3U: EUR 56.90 / USD 59.90
All the coolers benefit from SecuFirm2 mounting systems, NT-H1 thermal compound and a 6 year Noctua warranty.