Noctua, a specialist cooling company which makes "sound optimised premium components", has partnered with RotoSub to produce the world's first CPU cooler with active noise cancellation (ANC) built-in.
The Noctua ANC Project is based upon "the award winning" NH-D14 heatsink by the company. The heatsink assembly combines with an NF-A14 140mm fan and a FocusedFlow system paired with anti-vibration pads, ANC magnets, an ANC microphone, a RotoSub ANC controller and custom hood assembly to complete the cooling system.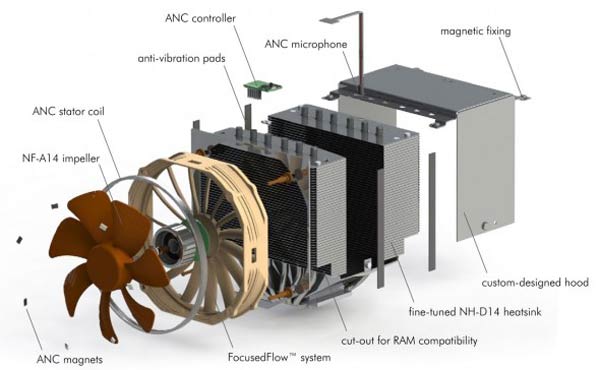 As is common with ANCs the system uses a microphone to listen to fan vibrations. However sound of these vibrations is cancelled out, phase destroyed, by adjusting an electromagnet to influence tiny magnets installed at the tip of each fan blade. "The patented RotoSub® ANC technology allows the fan itself to emit the anti-noise signal through minute modulations of the fan blades, which are achieved by switching on and off a coil within the fan frame that interacts with magnets inside the blade tips. This way, the anti-noise comes from the exact same position as the original noise and precisely matches its phase and rotation pattern," explains a Noctua blog post.
As you can see and hear in the video, the Noctua ANC Project electronics being turned on and off does seem to have a marked effect on the noise produced by the system. With the ANC system on you can't hear much more than the sound of the air flow.
The Noctua ANC Project is only aimed at CPUs in this prototype for now but there seems no reason why it couldn't be used for coolers in other components which contribute to the noise in your PC system. Whether it is practical or not as a quiet PC solution will depend a lot upon the pricing of the unit, if it gets to market.