700g of joy
RASCOM
Sometimes you just see something and you're left speechless.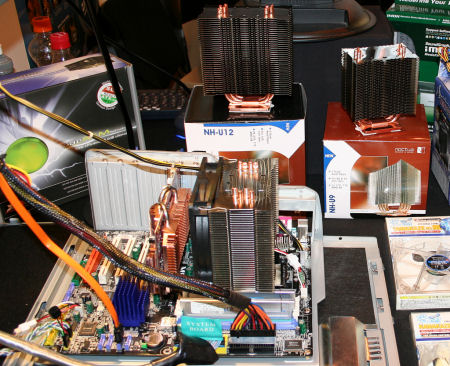 Just take a look at the size of that heatsink, man! Positively dwarfing the heatsink-clad graphics card next to it, the 700g Noctua NH-U12 features 4 sets of heatpipes and is designed to work with a 120mm fan. The big bosses of the parent company, RASCOM, seemed suitably happy with their monstrous cooling. They reckoned that a 120mm fan spinning at just 800RPM would effectively cool any consumer-level CPU on the market.

There's current support for S939, S478, LGA775, and suitable brackets for AM2 will be released next month. If you buy it, and it will be priced at around £45, just make sure it's installed correctly.

Certainly a solid piece of engineering. We'll most likely have one in for review soon.